Trailers offer backhaul choices for scrap haulers.
Press Release Summary: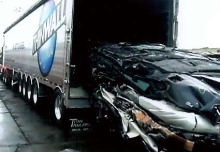 THINWALL(TM) Trailers are designed for live floor, extreme-duty loads such as scrap metal/crushed cars, chemicals, ore/aggregates, logs/wood chips, and C and D/scrap. They feature all-aluminum body with solid-steel V-Floor(TM) unloaders. Trucks measuring 48 ft long offer payload capacity up to 130 cu-yds. Since trailers have covered top, they offer alternative for truckers hauling crushed cars through states that restrict open-top or flat-deck trailers.
---
Original Press Release:

Titan Trailers Going to Extremes With Expanded Backhaul Choices for Scrap Haulers


Crushed Cars One Way, C&D Material The Other

Delhi, ON - Titan Trailers Inc. recently introduced the THINWALL(TM) trailer custom-built for today's toughest live floor for "extreme duty" loads such as scrap metal/crushed cars, chemicals, ore/aggregates, logs/wood chips and C&D/scrap.

According to Titan President Mike Kloepfer, the THINWALL trailers have the toughest all-aluminum body on the road. With the THINWALL and solid steel V-Floor(TM) unloaders from KEITH® WALKING FLOOR®, that means haulers have more backhaul choices, more capacity and more controlled unloading than dumps or B-trains.

Today's operator has to make the right business decision at every turn and with Titan, they can now haul one way and get a backhaul load for the trip home. With the rise in price of fuel and operating costs in general, Mike felt that this new trailer would help operators run more profitably. "No more running home empty! That has been the reaction that we have been getting from customers. They see this as a unique opportunity to open new doors to increase their overall productivity."

Mike says the new trailer is Titan's response to increased demands for higher efficiency and improved safety in extreme duty applications. "The THINWALL trailer has become the preferred choice for many applications that demand maximum capacity and low lifecycle costs. With the new V-Floor system, we can now extend the benefits of THINWALL to customers who need the extra strength of a steel live floor."

Hauling for many of these applications are met traditionally by steel-body dump trailers and flatdecks. However, dump bodies generally reach their practical payload limit around 50 cubic yards and can have problems handling off-balance loads on uneven work sites. A 48-ft Titan trailer, meanwhile, offers more than double the payload capacity - up to 130 cubic yards - while the KEITH V-Floor system ensures that the trailer maintains a sure footing while it walks off the load.

Since the Titan trailer has a covered top, it also offers a viable alternative for truckers who haul crushed cars through states that restrict them from using open-top or flat-deck trailers. The backhaul opportunities are endless. Furthermore, according to some flatdeck owners, the netting system can take them as long as 45 minutes to an hour to put on. With the V-Floor, they can literally load and go.

About Titan Trailers
Titan Trailers is a world-class innovation leader in the hauling industry long recognized for job-specific functionality and attention to manufacturing detail. Titan Trailers offer business-minded haulers a complete line of trailers utilizing advanced design and manufacturing technologies based on the patented THINWALL extruded aluminum panel. Titan focuses its extensive R&D activities on making its trailers the best business choice for operators in the custom trailer market.
For more information about Titan Trailers, visit the Titan website at www.titantrailers.com or contact:

Sandy Kloepfer
Tel: 519-688-4826
Fax:519-688-6453
E-mail: info@titantrailers.com


Related