Trailer Mounted Work Station consists of remote-controlled welder.
Press Release Summary: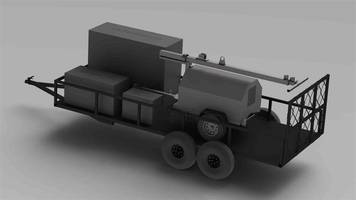 Trailer Mounted Work Station comprises of a two-stage air compressor, a 6 kW generator w/ 30 ft telescopic light tower, one 11 kW generator and a digital meter. The telescoping light features sturdy T-style mast head whereas the Electric® Flextec™ 650/LF-72 multi-process welder supports quick arc response with 15 A, 115 V aux power. Workstation is mounted on a trailer with two 3,500 lb axles. The compressor delivers a 34.1 CFM at 175 PSI.
---
Original Press Release:
Larson Electronics LLC Releases Temporary Trailer Mounted Work Station
Larson Electronics, leader in industrial lighting, has released a trailer mounted work station for temporary work sites that includes a telescoping light tower with a generator, a second stand-alone generator, a welder, as well as an air compressor, a digital meter for monitoring and hot start functionality. This light tower is mounted on a double-axle utility trailer, and is ideal for outdoor work sites, temporary projects, maintenance, repair applications and more.
The WAT-18x6-TNDM-LT.WLD.DG.AC-MOD1 from Larson Electronics is an IP23-rated temporary work station, mounted on a heavy-duty trailer with two, 3,500 lbs. axles and includes: one Lincoln multi-process welder, a two-stage air compressor, a 6kW generator w/ 30' telescopic light tower and one stand-alone 11kW generator. The 6kW generator is powered by a water-cooled diesel engine, while the second 11kW generator is powered by a diesel engine. Operators can use the unit to power 120/240V AC 60 Hz equipment. The telescoping light is perfect for deploying equipment up to 30 feet, and includes a sturdy T-style mast head. The mast can be folded over for height limitations.
The Lincoln Electric® Flextec™ 650/LF-72 multi-process welder can be used for many applications around the work site, and supports a quick arc response and standard 15-amp, 115V aux power. A remote foot pedal with 100 feet working distance can be used to power the welder in hard-to-reach areas. The included two-stage 10-hp air compressor provides 34.1 CFM at 175 PSI during operation, and is compatible with 208-230/460V three phase power. This unit features an input voltage of 380V three phase 50/60 Hz and an output voltage of 44V with 815-amp maximum DC output.
"This unit has it all," said Rob Bresnahan, CEO of Larson Electronics LLC. "One of our powerful light towers, two generators, a remote-controlled welder and an air compressor, provide operators with a transportable 'do it all' work station for a multitude of tasks."
About Larson Electronics LLC: Larson Electronics LLC is a manufacturer of industrial lighting equipment and accessories. The company offers an extensive catalog of industry-grade lighting and power distribution products for the following sectors: manufacturing, construction, food processing, oil and gas, military, marine and automobile. Customers can benefit from the company's hands-on, customized approach to lighting solutions. Larson Electronics provides expedited service for quotes, customer support and shipments.
Related