Trailer Coupler makes towing safer and easier.
Press Release Summary: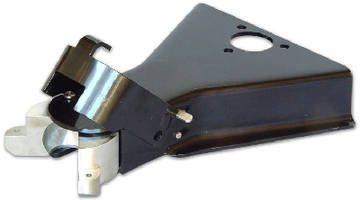 QuickBite Couplers use automatic dual-jaw locking system to couple trailer to vehicle. When vehicle ball enters trailer coupler, set of inner jaws automatically close around it. Jaws are captured by torsion spring-loaded locking outer-jaw, making it impossible for ball to escape. System eliminates need to raise trailer above ball and stops coupler-to-ball hang-ups. Use of horizontal and vertical capture areas for ball eliminates need for perfect line-ups.
---
Original Press Release:
New Generation Trailer Coupler Makes Towing Safer and Easier
Sometimes a new idea or concept is way over due. Which happens to be the case with "The QuickBite Coupler". For years now, and we are talking about over fifty years the method for coupling a trailer to it's tow vehicle have remained basically unchanged. That is until now. Now you not only have a coupler that is easier to use but one that is a safer too. Not necessarily safer because of design flaws in previous equipment on the market when used correctly. But safer by eliminating the certain steps in connecting most previous and current models, that allow for user error. Whether you trailer campers, boats, cars or horses for recreation and fun or you trailer equipment, machinery, or construction materials in your business; QuickBite Couplers have been developed to make your towing job both simple and safe. Everyone who trailers knows the story; you spend endless time and energy backing your truck to just that perfect position; not too much to the left or too much to the right, not to close, or not too far. It's always an effort to get that perfect alignment so that you can finally crank her down. QuickBite Trailer Couplers uses an automatic dual jaw locking system to couple your trailer to the vehicle, making it the easiest and safest hitching system ever built. When the vehicle ball enters the trailer coupler a set of inner jaws automatically close around the ball. These jaws are then captured by a torsion spring loaded locking outer jaw making it impossible for the ball to escape when used properly. This unique system eliminates the need to raise the trailer above the ball and stops coupler to ball hang-ups that plague owners. The QuickBite Couplers utilizes a horizontal and vertical capture area for the ball. There's no need to have the coupler perfectly lined up with the ball. When backing the vehicle to couple, the driver uses the patented alignment rod system to align the ball with the coupler. The four-foot collapsible rods serve as guides to make your coupling easy. And with QuickBite Couplers, once the mechanism closes, you no longer have to worry about whether you have a good connection or not. And most important, with millions of dollars of property damage and hundreds of lives lost every year. QuickBite has addressed the safety issue. We are not just talking about the safety of your cargo, but your safety, as well as the safety of other motorist on the highway. The QuickBite Coupler has not only passed the test in the laboratory, it's also passed the test on the road. QuickBite Couplers; quiet simply, the safest, easiest coupling system on the market today. For more information you can visit www.quickbitecouplers.com, to see live video of QuickBite Coupler in action and hear what people are saying about it, or you can call 336-956-1956, or write QuickBite Coupler, 115 Green Needles Drive, Lexington, N.C. 27292
More from Packaging Products & Equipment