Track-Type Tractors are Tier 2 compliant.
Press Release Summary: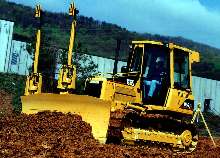 Turbocharged engines of earthmoving Caterpillar D3G, D4G, and D5G Tractors meet EPA Tier 2 and CE Stage II emission norms. Power outputs of Models D5G, D4G, and D3G are 90 hp, 80 hp, and 70 hp, respectively. Product Link system, with GPS technology, provides up-to-date information on machine location, hours, and health. Machine-monitoring package alerts operator of machine conditions without need for visual monitoring. Single joystick controls speed, direction, and steering.
---
Original Press Release:

Caterpillar® D3G, D4G and D5G Track-Type Tractors Now Tier 2 Compliant, Offering New Standard Equipment, Advanced Technology Systems, Available Work Tools


Three Caterpillar G-Series small track-type tractors - the D3G, D4G and D5G - are now equipped with EPA Tier 2 and CE Stage II emissions certified engines. The proven Cat® 3046 diesel engine is now turbocharged for enhanced responsiveness on all three models.

With the new engine, the D5G now produces 90 horsepower (67 kW) at the flywheel. The D4G and D3G, previously not available with turbocharged engines, offer net power of 80 hp (60 kW) and 70 hp (52 kW), respectively. Along with the new turbocharged engine, additional standard equipment on the tractors includes: two heavy-duty, 12-volt 900 CCA batteries; a turbine-type precleaner; a 110-amp alternator for longer life; an air intake heater for easier cold-weather starting; and a comfort-adjustable suspension seat.

In addition to these upgrades, the updated G-Series models - like all Caterpillar track-type tractors - are available with the Caterpillar AccuGrade(TM) Laser Grade Control system as a factory-installed feature. This high-technology earthmoving tool, which uses advanced laser technology, allows operators to fine grade with increased accuracy without the use of traditional stakes or grade checkers.

The system permits improved job cost efficiencies by providing a method of obtaining consistent grade with less manpower. And factory-installation means owners can use their Caterpillar dealer for one-stop ordering and service.

Also available as a factory option is the Caterpillar Product Link system. Using global positioning satellite technology and the Internet, the system automatically generates machine data and sends it to the owner via the Caterpillar dealer storefront.

Product Link provides up-to-date information on such items as machine location, hours and machine health information. It allows owners to obtain lower operating costs through timely service and repairs and optimum fleet use.

Purchasers of the new models can also select factory installation of the Machine Security System. That system inhibits unauthorized machine use by immobilizing vital electrical circuits. Machine owners can set time parameters for machine use. Beyond those limits, a special key is needed to start the machine.

Popular options - introduced with the G-Series tractors in 2001 -continue to be available. Those include:

o A hydrostatic winch with 40,000-pound (178-kN) line pull. The winch allows smooth modulation and infinitely variable speed and pull. It provides high line pull at low and high speed with one winch configuration. The result is good load control and high productivity with reduced operator effort. A dedicated, closed-
loop hydraulic system powers the winch.

o Rotating Bushing Track (RBT) is a sealed and lubricated track that allows the bushings to rotate as they are driven by the sprocket, thereby reducing bushing wear. This design eliminates bushing turn maintenance expense and sprocket replacement costs. RBT works best in moderate to high abrasion areas and low to moderate impact conditions.

o A larger and more aggressive parallelogram ripper. The parallel linkage design allows better penetration and easier maneuvering in tight spaces. Longer shanks deliver more work per pass.

o A machine-monitoring package designed to alert the operator of machine conditions without requiring constant visual monitoring. Fuel level, hydraulic oil temperature, oil pressure, coolant temperature and maximum speed-setting gauges are included in the instrument panel. Indicator lamps report other machine conditions.

o An operator station based on the design of larger Caterpillar tractors with the spacious feel and ergonomic accommodations of bigger tractors. The hexagon shaped cab allows easy entry and exit, and 13 percent more tinted glass area ensures good sight lines to the blade and work area. Angled doors on the left and
right side allow the operator to see the ground at the sides of the machine. Improved sight lines enhance the operator's grading performance. Also, operator sound exposure is reduced, and a new climate control system helps ensure operator comfort in all weather conditions. The layout emphasizes simplicity, ease of use, and comfort. A single lever is used to control all blade functions - lift, angle, and tilt. The ergonomically designed lever fits comfortably in the operator's hand.

Hydrostatic transmission control
The proven hydrostatic transmission provides full power turn capability, stepless speed range and superior maneuverability. Each G-Series tractor incorporates an improved transmission control system for simpler operation and smooth, precise control, which allows the operator to focus more on blade control.

A single joystick controls speed, direction and steering. The joystick has three detented positions for travel: forward, neutral, and reverse. Two joystick-mounted buttons are used
to increase or decrease speed. The dual-path, closed-loop hydrostatic drive system provides infinitely variable speed up to 5.6 mph (9.0 kph) forward and 6.0 mph (9.6 kph) reverse. A new feature allows the operator to use faster reverse speed based on a percentage of forward speed for greater productivity.

Moving the joystick left or right turns the tractor. Regardless of ground conditions, steering is consistent and predictable. Moving the joystick all the way to the right or left counter rotates the tracks for maneuvering in very tight places or for adjusting steering when the blade encounters high side loads or corner loads. The control system also enables the operator to adjust tractor position easily when working on side slopes.

Easier maintenance
Longer oil and filter change intervals and easier maintenance result in better machine availability and lower operating costs for the G-Series tractors. Left- and right-side access doors put many maintenance items within easy reach. The radiator and the transmission cooler are now side by side for easier maintenance and all hydraulic pressure taps now are located in one bank. Comprehensive onboard diagnostics speed troubleshooting.

A range to fit your needs
Two undercarriage configurations are offered - the XL with extended length roller frame and the LGP (low ground pressure). Each G-Series tractor is equipped with a variable pitch, power angle and tilt (VPAT) blade for versatility. The G-Series tractors range in weight from the D3G XL at 16,227 pounds (7351 kg) to the D5G LGP, which weighs 20,434 pounds (9269 kg). Blade capacities range from 1.88 cubic yards (1.44 cubic meters) to 3.06 cubic yards (2.34 cubic meters).

The G-Series tractors are designed to excel in construction applications requiring superior maneuverability and controllability when dozing, grading, cutting ditches, backfilling ditches, spreading fill and landscaping.

For more information, customers should contact their local Caterpillar dealer or visit the Cat web site at www.cat.com.

More from Optics & Photonics