Tracing Bit takes measuring out of cutting.
Press Release Summary: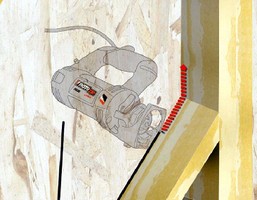 Multi-purpose 5/32 in. XB-MPGP2 Tracing XBIT(TM) makes correct cuts every time by avoiding object behind surface and only cutting out material desired. To use bit, users plunge directly into workpiece and bit is driven in one direction until it hits edge of object being cut out. Using object as template, users follow edge around to complete cut. Compatible with RotoZip and Spiral Saws®, bit is suited for applications in materials ranging from wood to fiberglass.
---
Original Press Release:
RotoZip(r) Tracing XBIT Takes The Measuring Out Of Cutting
Mt. Prospect, Ill. (April 25, 2006) - RotoZip continued the expansion of its heavy duty and long-lasting XBITS(tm) line with the addition of the XB-MPGP2 Tracing XBIT, the industry's first full-fledged multi-purpose tracer. For applications in a variety of materials ranging from wood to fiberglass, the newest XBIT offers a fast and easy solution for all types of cut-outs. The Patented RotoZip Tracing Bit tip makes perfect cuts every time by avoiding the object behind the surface and only cutting out the material desired. From electrical boxes to window frames and more, this new bit eliminates the need for measurement. The 5/32-inch diameter bit is compatible with both RotoZip and competitive Spiral Saws(r). To use the bit, users simply plunge directly into the work piece; pilot holes are unnecessary. Next, they drive the bit in one direction until it hits the edge of the object they desire to cut out. And finally, utilizing the object as a template, users follow the edge around to complete the cut. By simply following the template, users end up with a perfect cut every time. The XB-MPGP2 Tracing XBIT is available in a two-bit execution at home centers, hardware stores, and wherever professional power tools are found. The manufacturer's suggested retail price is $11.99. RotoZip manufactures a broad range of XBITS compatible with both the RotoZip series of Spiral Saws and competitive tools. Additional XBITS include: o Drywall (XB-DW2) o Multi-purpose (XB-MP2) o Tilecut (XB-TC1) o Underlayment (XB-UL1) o Laminate Flooring (XB-LF1) o Metal (XB-MC1) About RotoZip: RotoZip(r) was founded in 1972 when a professional drywall contractor sought a better faster way to cut drywall. Focused on saving time and money, while improving his results, this single vision soon spawned a complete line of high performance professional tools, accessories and attachments for cutting a wide variety of building materials. Bosch, long recognized and admired worldwide for unparalleled engineering and performance, acquired RotoZip in 2003. Today, the new RotoZip continues to build upon the same strong foundation established over two decades ago as the world's number one Spiral Saw(r) system. For more information, visit www.RotoZip.com or call 877-ROTOZIP. About Bosch North America: In addition to power tools and accessories, in North America the Bosch Group manufactures and markets automotive original equipment and aftermarket products, industrial automation and mobile products, security technology, packaging equipment and household appliances. Overall, Bosch employs more than 23,300 associates in more than 80 facilities throughout North America and reported sales of $6.6 billion in 2003. Visit www.bosch.us.
Related