Trace Gas Analyzer recovers high Argon yields in ASU process.
Press Release Summary: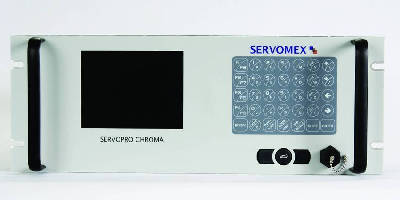 Using advanced gas chromatograph technology, SERVOPRO Chroma provides measurements that enable complete evaluation of efficiency of air separation process. Analyzer can be configured for sub ppm analysis of Nitrogen in crude Argon, which cannot be obtained by trace N2 in Ar analyzers or by thermal conductivity detectors. Together, combination of plasma emission detector and dopant injection technology provides extremely stable N2 measurement – and requires only argon carrier gas to function.
---
Original Press Release:

SERVOPRO Chroma Trace Gas Analyser Now Proven to Increase Crude Argon Recovery in ASU Operations



Crowborough, UK,  – Now proven in trials to recover significantly high Argon (Ar) yields, the SERVOPRO Chroma from Servomex measurably improves both productivity and profitability in a range of Ar producing applications.



Produced in relatively minor quantities as part of the air separation process, any improvements in the quantity of Ar recovered in ASU processes can significantly boost profits – with even single percentage increases in yield potentially boosting revenues by hundreds of thousands of dollars annually.



The SERVOPRO Chroma uses advanced gas chromatograph (GC) technology for measurements that enable a complete evaluation of the efficiency of the air separation process. Usually employed to measure impurities in bulk gases, the Chroma can be configured for the sub ppm analysis of Nitrogen (N2) in crude Ar (typically 90 per cent oxygen, balance Ar and N2) – a measurement that cannot be obtained by trace N2 in Ar analysers, or by thermal conductivity detectors which cannot return the low level sensitivity required for the measurement. Together, Servomex's unique patented combination of plasma emission detector and dopant injection technology provides an extremely stable N2 measurement - and requires only an argon carrier gas to function, reducing operating costs.



The Chroma master chassis controls a range of detectors and columns for data recording in real-time, working as an independent analyser with each peak reported on screen with a process value in ppm or ppb. This instant data stream from the Ar column enables specific, individual adjustments to be made to optimise Ar recovery from the process.



A compact instrument with minimal footprint and installation costs, the Chroma's easy to use interface gives full access to all functions, measurements and system status. With the onboard computer removing the requirement for external computer control, the simple and intuitive user interface enables improvements to be implemented quickly and easily.



In trials, where Ar was produced in cryogenic liquid from the onsite ASU, the Chroma sample system was set up in different parts of the process so that it returned multiple data readings from across the process. Analysis of those results enabled adjustments to be made that returned up to three percent increases in Ar recovery, dependent on the operations and type of plant involved.



"We conduct a number of trials throughout the US during 2012, all of which conclusively showed the capability of the Chroma to optimise argon recovery," says Regis Loubatiere, Trace Product Manager, Servomex. "Not only are the considerable benefits for ASU production apparent from these trials, but the success of this application underlines the exceptional flexibility of the SERVOPRO Chroma as a leading trace gas analyser."



For more information about the improvements to argon recovery utilising the SERVOPRO Chroma, download the white paper at www.servomex.com/chroma, email chroma@servomex.com or contact the Servomex Americas Business Centre (+1 281 295 5800), Asia Pacific Business Centre (+86 (0)21 6489 7570), European Business Centre (+31 (0) 79 330 1581 / 00800 737866390 / Toll free in France, Holland, Germany, Belgium and the UK),  India Business Centre (+91 22 3934 2700), Latin American Business Centre (+55 11 5188 8166) and Middle East Business Centre (+971 6552 8073).



www.servomex.com



About Servomex Group Ltd

As the world expert in gas analysis, Servomex has established itself as the leading provider of reliable, accurate and stable gas measurement solutions to industries across the globe.



An acknowledged innovator in gas analysis technologies for more than 60 years, Servomex is the originator of and world leader in paramagnetic sensing technology and has an exceptional reputation in the development of zirconia, laser (TDL), gas chromatography, FID, coulometric, photometric and thick film technologies. With a leading edge in R&D and manufacturing maintained by two Technical Centres based in Crowborough, UK and Boston, Massachusetts, the result is high-performance, gas analysis, delivered through a portfolio of dependable products ranging from portable gas analysers to complex process solutions..



By combining global expertise with local support, Servomex delivers product and services that ensures customers improve output quality, maintain plant and process safety and meet legislative requirements.



Servomex is part of Spectris plc, a leading supplier of instrumentation and controls to global markets.



For further information

Contact:

Chris Lawrenson at

Coda Communications

E-mail: chris@codacomms.co.uk  

Tel: +44 (0)1202 669694

Cell: +44 (0)7590 036435

 





More from Mechanical Power Transmission