TQC Drying Time Recorder features heated display.
Press Release Summary: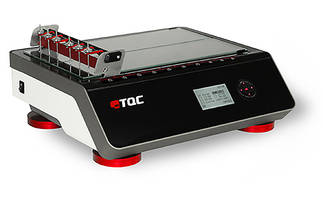 TQC Drying Time Recorder is designed to measure and record drying times of the surface coatings. This unit comes with six tracks and 100 X 350 X 3 mm reusable glass beds. Recorder offers adjustable travel times from 1 minute to 200 hours. Unit features Triple I Control® interface and glass front panel. Product is powered by 24V DC power supply and is operated over -20°C to +70°C temperature range.
---
Original Press Release:
Introducing the New TQC Drying Time Recorder
A Digitally Controlled Machine that Measures and Records the Different Stages in the Drying Time
The TQC Drying Time Recorder measures and Records the Drying Time of Surface Coatings, etc. It is a fully digitally controlled machine that conforms to the BK (Beck Koller) method and meets ASTM D5895, ISO 9117-4 and DIN EN 14022.
Defining the final result or checking intermediate stages is very easy by means of the clear digital display and the intuitive controller. The compact machine has six tracks, and comes with two robust and reusable glass beds of 100 X 350 X 3 mm. Optional are six narrow glass beds in special adapters. The front panel of the TQC Drying Time Recorder is made out of hardened glass, which is easy to clean and protects the display underneath it.
The TQC Drying Time Recorder is powered by a safe 24V DC power supply.
Features
Flexible travel times, digitally adjustable from 1 minute to 200 hours
Check intermediate and final results on the machine's display
Heated display enhances menu visibility at lower temperatures
Lubricant free drive system
Wide operating temperature range from -20°C to +70°C, also suitable for tests in climate chambers
6 tracks
Triple I Control® - Intelligent Illumination Interface; only active keys are illuminated
Time settings are very accurate, < 1% of set time
Glass front panel eases cleaning and protects the display
Reusable glass beds
Safe 24V DC power supply
Item No. DT-100201
More from Machinery & Machining Tools