TPP Tape offers alternative to filament tapes.
Press Release Summary: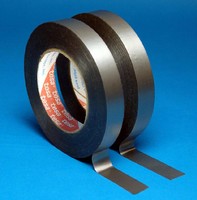 Consisting of tensilized polypropylene (TPP) strapping tape with metallic appearance, tesa® 51010 High Load offers flexibility, which allows it to contour to almost any shape. Synthetic rubber adhesive system adheres to low surface energy substrates and removes cleanly from most surfaces. TPP tape offers alternative to filament tapes for securing pallets, bundling heavy goods, end tabbing coiled or rolled materials, and reinforced holding of volatile components.
---
Original Press Release:

tesa tape, inc. Adds High-Strength Tape to Its Assortment



CHARLOTTE, NC, USA - August 13, 2008 - Today, company officials of tesa tape, inc., a global leader in the manufacture and supply of pressure-sensitive adhesive tapes, announced the addition of a new product - tesa® 51010 High Load - to its expansive line of tensilized polypropylene (TPP) tapes.

tesa® 51010 High Load is a highly tensilized polypropylene strapping tape featuring a unique, stateof-the-art backing that provides the highest strength of any TPP tape on the market! Its sleek metallic appearance emphasizes its durability, yet its flexible nature allows it to contour to almost any shape!

Additionally, tesa® 51010 High Load features a synthetic rubber adhesive system that offers excellent adhesion to low surface energy (LSE) substrates and removes cleanly from most surfaces.

Because of its combined strength and flexibility, tesa® 51010 High Load is an excellent alternative to filament tapes for securing pallets, bundling heavy goods, end tabbing coiled or rolled materials, and reinforced holding of volatile parts and components.

With the addition of tesa® 51010 High Load, tesa tape, inc. now offers a robust assortment of 15 tensilized polypropylene tapes ranging from general-purpose grades to the most durable grade on the market.

In addition to its TPP tape assortment, tesa offers an extensive line of specialty tapes and related products for a variety of industries. Visit the company's website for complete assortment information - www.tesatape.com.

About the Company

For over a century, tesa tape has pioneered the development of pressure-sensitive adhesive tape technologies. This rich tradition of innovation dates back to 1882 when the company's founder patented a method for manufacturing medical adhesive dressings. With this invention came the beginning of a global enterprise dedicated to the development and promotion of advanced adhesive tape solutions. Today, this worldwide enterprise services customers in over 100 countries around the globe and holds numerous product patents. In North America, tesa markets many diverse product lines including double-sided fastening tapes, masking tapes and associated products, packaging tapes, duct and cloth tapes, and many specialty tape products.

At tesa, it is our charter to provide our customers with service levels and applications expertise that are second to none in the industry. With this as our goal, we stand committed to providing you with adhesive tape solutions beyond the roll!
tesa...adhesive tape solutions beyond the roll!

ISO 9001: 2000 certified ISO TS 16949:2002 certified ISO 14001:2004 certified

More from Software