Toyotetsu Goes Live with Plex Systems in North America to Form Smart Manufacturing Enterprise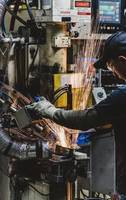 Award-winning tier-one automotive supplier now running two facilities on Plex
Troy, Mich., May 7, 2019 /PRNewswire/ -- Plex Systems, the leader in cloud ERP and MES for manufacturing, today announced Toyotetsu America, Inc. (TTAI) is now running two facilities in North America on the Plex Manufacturing Cloud. An additional six facilities will go live by 2020 in the U.S., Canada and Mexico, with Plex forming the foundation of the company's smart manufacturing strategy. A top-ten supplier to Toyota, and the largest metal stamping supplier to Toyota, Toyotetsu is a recognized leader in the North American Japanese automotive supply chain, delivering high quality body, chassis, and functional parts. Toyotetsu is also a key supplier to automakers Subaru, Nissan, and Mazda.
"Toyotetsu's move to the Plex Manufacturing Cloud is a strategic program to establish the technology foundation for our company's strategic growth," said Donnie Slagle, vice president of Toyotetsu America, Inc. "Plex uniquely provides a single system of record for everything from enterprise quality to operational efficiency, along with better insight into every aspect of manufacturing. Plex offers a vital set of capabilities for meeting our long-term business goals. We want to push the limits of what it means to be a truly connected manufacturer, realizing our vision to be the leader in smart manufacturing."
Toyotetsu selected Plex global premier partner Plante Moran to lead the implementation project. Plante Moran has been a leading alliance partner with Plex for more than 13 years and has successfully completed hundreds of plant implementations for tens of thousands of users around the world including several dozen Japanese automotive suppliers in various supply chains such as Toyota.
"Toyotetsu has taken a strategic, integrated approach to operational improvement across the organization," said Doug Hockenbrocht, global IT consulting partner, Plante Moran. "By connecting shop floor production, administrative functions and its supply base, Plex will provide the real-time visibility Toyotetsu needs to support its continued growth."
"I am extremely excited to be working with the Toyotetsu team members who live by the Toyota Production System (TPS) principles," said Yuzo Suzuki, Plante Moran principal and project manager. "This Plex implementation project is a strategic opportunity to seek true integration between TPS and cloud technology."
The Plex Manufacturing Cloud Delivers Connected Manufacturing
Toyotetsu selected Plex Systems based on its cloud multi-tenant model and demonstrated track record as the system of record for automotive industry leaders.
Toyotetsu deployed the Plex Manufacturing Cloud in its Kentucky plant and corporate headquarters, and will go live in 2020 in six additional facilities in the U.S., Canada and Mexicoas the system of record for the company's North American operations, connecting systems, materials, equipment, processes, suppliers, products, and customers.
The company has integrated its PLCs (programmable logic controls) in over 250 work centers in its first plant and plans PLC integration in 100 percent of its machines across North America to eliminate manual processes to increase reporting efficiency and real-time information flow, transforming their business to adopt a truly connected enterprise in the era of Industry 4.0.
Toyotetsu plans to integrate its Kanban methodology with Plex's Kanban capabilities to increase visibility on the plant floor and in the office.
Toyotetsu will use Plex Manufacturing Cloud capabilities developed specifically for companies within the Toyota supply chain, including the Toyota Shipping Confirmation System, sequencing, just-in-time (JIT) capabilities and other RAN requirements specific to Toyota, with future plans to integrate RFID tracking.
"Toyotetsu is a true manufacturing leader, combining an extensive track record for innovation, quality and customer service with a commitment to continuous improvement," said Bill Berutti, Plex Systems CEO. "All of us at Plex look forward to helping the Toyotetsu team transform their organization in the cloud; we're proud to have them as our customer."
About Plante Moran
Plante Moran is among the nation's largest accounting, tax and consulting firms and provides a full line of services to organizations in the following industries: manufacturing and distribution, financial services, service, healthcare, private equity, public sector and real estate and construction. Plante Moran has a staff of more than 3,000 professionals throughout Colorado, Illinois, Michigan and Ohiowith international offices in Shanghai, China; Mumbai, India; Tokyo, Japan; and Monterrey, Mexico. Plante Moran has been recognized by a number of organizations, including Fortune magazine, as one of the country's best places to work. For more information, visit plantemoran.com.
About Plex Systems
Plex Systems® delivers industry-leading ERP and manufacturing automation to more than 600 companies across process and discrete industries. Plex pioneered cloud solutions for the shop floor, connecting suppliers, machines, people, systems, and customers with capabilities that are easy to configure, deliver continuous innovation and reduce IT costs. With insight that starts on the production line, the Plex Manufacturing Cloud® helps companies see and understand every aspect of their business ecosystems, enabling them to lead in an ever-changing market. Learn more at www.plex.com.
© 2019. Plex Systems, Inc. All rights reserved. Plex Manufacturing Cloud and the Plex logo are registered trademarks of Plex Systems, Inc.
Source Plex Systems
Contact:
Kaitlin Rebella, Sr. Manager, Corporate Communications, Plex Systems, 248.318.4303, krebella@plex.com
Kristin Lynn, PR Strategist, Plante Moran, 248-709-1405, Kristin.Lynn@plantemoran.com
Web Site: http://www.plex.com
More from Communication Systems & Equipment