Toyota Industries Corporation to Launch World's First Internal Combustion Hybrid Lift Truck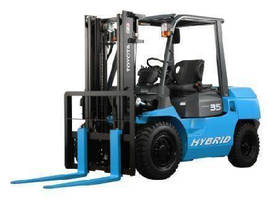 IRVINE, Calif., (June 4, 2009) - Toyota Industries Corporation (TICO) has announced it will launch the world's first1 internal combustion hybrid lift truck. Sales of the Toyota diesel hybrid lift trucks will begin in the Japanese market this December.
Drawing on the Toyota Group's leadership and innovation in hybrid technology, the ground-breaking 'GENEO-HYBRID' 8,000 lb. counterbalanced lift truck combines a 2.5-liter diesel engine, electric motor and nickel-metal hydride battery to reduce fuel consumption and CO2 emissions by 50%.2

As businesses look to reduce fuel costs and decrease CO2 emissions, Toyota Hybrid technology offers a practical, proven solution by capitalizing on the advantages of existing fuel sources and infrastructure. The new GENEO-HYBRID lift truck will cut CO2 emissions and fuel consumption in half² while delivering the operational performance of an equivalent conventional diesel-powered lift truck. The result is a lift truck that provides both improved environmental performance and economic benefits for customers due to lower fuel costs.

The global leader in materials handling, TICO sold more than 193,000 lift trucks worldwide in 2008, and is named on FORTUNE magazine's World's Most Admired Companies Top 50 list. Toyota Material Handling, U.S.A., Inc. (TMHU), the U.S. distributor for Toyota material handling products, is a TICO subsidiary.

"Toyota has been a leader in hybrid development for years with the very popular Prius vehicle," said Brett Wood, president of TMHU. "We are excited to see hybrid technology entering the mainstream of material handling. This is a huge step forward for our industry."

Powered by highly efficient Toyota hybrid technology, the GENEO-HYBRID combines a Series Hybrid System for driving and a Parallel Hybrid System for load handling. With the Series Hybrid System, the lift truck's drive motor runs on electric energy from the engine-powered generator and battery. Load handling functions are powered by a Parallel Hybrid System with a hydraulic pump that receives mechanical energy from the diesel engine and generator, and electric energy from the battery.The nickel hydride battery is recharged by the engine's operation and does not require plug-in recharging, making it an ideal solution for multi-shift operations. The truck's power efficiency is further boosted by the integrated use of regenerated energy recovered when the accelerator is released and during switch back operation.

Developed and manufactured in Japan, the GENEO-HYBRID lift truck will be launched to the Japanese market first. The timeline for launching Toyota hybrid lift trucks in the U.S. is not yet decided. For more than a decade, Toyota Hybrid technology has set the industry standard, with the Toyota Prius making history as the world's first mass-produced hybrid car. Since the Prius was launched in 1997, more than 1.7 million Toyota hybrids have been sold worldwide.

In line with its environmental commitment and philosophy of continuous improvement (kaizen), Toyota is exploring a range of technologies using existing fuels as well as alternative energy sources to meet evolving industry needs.

About Toyota Material Handling, U.S.A., Inc.

Celebrating more than 40 years of established operations in the United States, Irvine, Calif.-based Toyota Material Handling, U.S.A., Inc., (TMHU) has been the No. 1 selling lift truck supplier in the U.S. since 2002 and currently offers a full line of high-quality lift trucks sold under the Toyota brand. TMHU, as the sole United States distributor for Aichi, now offers a line-up of aerial work lifts, including scissor lifts, crawler and wheeled boom lifts designed specifically to meet a wide range of indoor and outdoor needs.

Built on a reputation of excellence, Toyota remains the industry leader due to its quality, durability and reliability. Quality is the hallmark of Toyota's world-renowned Toyota Production System practiced at all Toyota manufacturing facilities, including Toyota Industrial Equipment Manufacturing (TIEM). Most of the Toyota lift trucks sold in the United States are manufactured at TIEM in Columbus, Ind.
TIEM, and all Toyota manufacturing plants in the U.S. and Canada, comply with the ISO 14001 standard from the International Organization for Standardization (ISO), and have been honored for their environmental management systems and dedication to continuous improvement.

Toyota's commitment to excellence in customer service extends nationwide. Sixty-eight authorized Toyota Industrial Equipment dealers, with a total of 188 dealership locations throughout the United States, offer comprehensive customer service support, including one-stop shopping for both new and Certified Used lift trucks, parts and service, fleet servicing, and financing. For more information on TMHU, please visit www.toyotaforklift.com or call 1-800-226-0009.

1 Researched by Toyota Industries Corporation at the end of April 2009.

2 Value measured by Toyota Industries Corporation based on the operating cycle of JIS (Japanese Industrial Standards), equivalent to German VDI (Verein Deutscher Ingenieure) guidelines.

More from Sensors, Monitors & Transducers