Automated Storage/Retrieval Systems (AS/RS)
Tower System provides automated storage and retrieval.
Press Release Summary: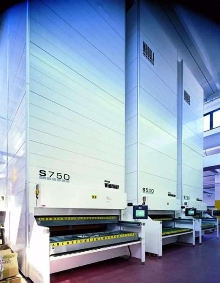 Vertical Lift Module Automated Storage and Retrieval System gives organizational benefits of modular drawer storage, space savings of automated storage and retrieval system, and power and convenience of Windows XP-based controller. Spare parts, accessories, semi-finished or finished goods, tools, and components stored in drawer can be cataloged, stored, and accessed easily. Unit can hold up to 240 drawers ranging from 5.3-21.5 ft wide, and up to 2.6 ft deep.
---
Original Press Release:

Stanley Vidmar Introduces The Vertical Lift Module


New tower system combines high density drawer storage, automated storage and retrieval, and easy-to-use Windows-based software.

Allentown, PA, March 15, 2005 - Spare parts, accessories, semi-finished or finished goods, tools, and components: now anything that can be stored in a drawer can now be cataloged, stored, and accessed as easily as using an ATM. That's because the new Stanley® Vidmar® Vertical Lift Module Automated Storage and Retrieval System (VLM) gives users the organizational benefits of modular drawer storage, the space savings of an automated storage and retrieval system, and the power and convenience of a Windows XP-based controller.

The Stanley® Vidmar® VLM is way more than a storage carousel. This vertical storage tower can hold as many as 240 drawers, and includes a unique elevator mechanism that fetches drawers as needed and delivers them to a picking bay. Two picking bays can be placed on different levels, so while one user removes parts from one drawer, the system can be finding and delivering another drawer to another user.

An intuitive, Windows XP-based software program gives users unparalleled control over inventory. Items are stored, cataloged, and retrieved using a touch screen interface, and can be cataloged by drawer number, part number, or part description. Users can even enter digital photos into the system, which lets them visually identify an item, then touch the photo on the screen to retrieve it. The software even lets managers determine who has access to which drawers.

The Stanley® Vidmar® VLM comes in various models, with a variety of weight capacities and drawer sizes. Drawers range from 5.3 to 21.5 feet wide, and up to 2.6 feet deep. Users can specify the height of the tower, the number of drawers, whether to use drawer partitions to organize items, and where to place the picking bays. One model will even automatically adjust drawer heights to accommodate changing inventory. This flexibility lets users customize the machine to hold items ranging in size from small electrical components to large finished goods. Other options include electronic drawer weight scales, closing doors with keyed locks for security, sliding trays, bar code readers, label printers, and counting scales.

The combination of flexibility, convenience, and power help make this a total solution for managing, locating and picking stored materials in any industry.

About Stanley Vidmar

Stanley Vidmar offers storage solutions to all industries, with modular, space-saving systems that provide quick, safe access to parts, tools and supplies. A Stanley® Vidmar® system can maximize valuable floor space while providing an integrated solution for inventory control. Customers may plan a pallet design with a Vidmar engineer or arrange for a free storage analysis by calling 1-800-523-9462. They can find detailed information about Stanley Vidmar products online at www.stanleyvidmar.com.

Gwyn McAllister or Charles Wardell
Vineyard Communications
508-696-0543
vineyardcommunications@earthlink.net

Related