Tough Enough for the Most Rugged Streetcaps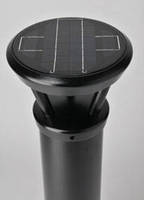 Solar Bollards powered by First Light Technologies stand up to violent attacks and extreme weather.



The phrase "powered by First Light Technologies" is often used to describe Reliance Foundry's solar-powered lighting bollards. The phrase may be easily passed over but readers should take note that it describes one of the most durable and efficient solar lighting fixtures on the market. Designed to deliver unsurpassed endurance, it features solar panels composed of a highly durable polycarbonate that is UV resistant and will not fade due to elemental exposure. Its electronic components are sturdy and they are housed within a robust outer casting that provides the highest level of protection. The durability that this light offers is a big part of the reason why it was selected for Reliance Foundry's solar-powered lighting bollards.



In many North American climates, cold air, heat and moisture can pose a threat to the electronic components of a lighting system. Vandalism and has also become a primary concern on modern streetscapes. The engineers at First Light knew that a solar light, used in a lighting bollard, would have to be tough so they designed one with durability in mind. They developed a design and subjected it to rigorous testing to ensure that it would withstand all the challenges of a modern streetscape. The result of their efforts is a tough-as-nails solar lighting fixture.



The water begins to rise on bollards powered by First Light Technologies.



From lit cigarettes to baseball bats and hammers, the solar light survived all attacks in the lab but no test could have simulated the challenge that it was made to face in Australia in the spring of 2012. A solar lighting company, Orion Solar, had set the lights on lighting bollards and supplied them to Jetty specialists. The solar bollards were the perfect solution for an area that did not have a readily available electric source and the specialists installed them on a pontoon, located on the Barron River and maintained by Australia's Department of Transport and Roads. The installation took place at the end of February and just a few weeks later, the solar lights faced the toughest challenge ever posed to bollards that were "powered by First Light Technologies".



On March 25th, 2012, extreme flooding began on the Barron River. It lasted for three days and for much of that time, the bollards and lighting fixtures were completely submerged and repeatedly struck by floating debris. This environmental challenge would have destroyed the electric components of most lighting fixtures but when the waters subsided and workers checked the bollards' lighting systems, they were shocked by what they discovered.



Flood waters cover the solar lighting bollards.



"All four lights with three bulbs in each were found to be in full working order," said Duncan Muirson, Planning Coordinator at Australia's Department of Transport and Main Roads; "This is remarkable considering what they went through and that some were submerged for quite a while."



Theses solar lights were designed to be tough but what makes the story even more amazing is that they were only designed to be water-resistant, not water-proof. In fact, during the design stage, the engineers at First Light Technologies had placed a greater priority on breathability to prevent the build-up of moisture and appropriate battery venting.



"The solar light was NOT designed for immersion; it was actually designed to allow for some air-flow," said Sean Bourquin, Managing Director at First Light Technologies. "Having said this, we now more fully seal the head of the light while maintaining pressure equalization and battery venting."



After the flood with solar powered lighting bollards found in full working order.



Although the solar lighting fixtures did demonstrate an intense level of resiliency by surviving this ordeal, Bourquin explains that the lights are designed to survive the rigors of hot coastal environments but complete submersion usually requires a different design approach. If questions arise on a solar powered lighting bollard's suitability for an application, the Sales Department at Reliance Foundry should always be consulted.



The engineers at First light have created a light that is highly durable and it is now the same solar light that is offered on all standard model solar powered lighting bollards by Reliance Foundry. The resiliency that it displayed through its testing and stories of its endurance in the field are why it was selected and why designers and architects can be confident that it will stand up to the rigors of modern streetscapes. For more information on these highly-durable and intelligent, solar powered lighting bollards, please view Reliance Foundry's catalogue of solar lighting bollards.



For additional information contact:



Brad Done

Reliance Foundry

Phone: (604)592-4323

Fax: (604)590-8875

Web: www.reliance-foundry.com



About Reliance Foundry Co. Ltd.

Reliance Foundry has been a family-owned business since 1927. Bollards are one of their main product lines, along with bike racks, industrial wheels, and investment castings. Reliance sources products globally and offers quick and convenient delivery in the United States and Canada from its Vancouver location.



More from Communication Systems & Equipment