Touchscreen serves as drop-in replacement.
Press Release Summary: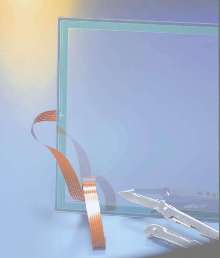 Model T8 8-wire resistive touch screen offers self calibration for sustained touch accuracy, chemically strengthened glass or polycarbonate support for break resistance, and pin-to-pin compatibility to competitor's products. Sizes range from 8.4-18.1 in. Options include anti-glare or polished finish controllers to support most operating systems, including Windows, Dos Linux, Mac, and OS/2 and choice of USB or Serial.
---
Original Press Release:

Touch International Answers Market Need for 8-wire Resistive Touch Screen Drop-In Replacement


T8 Created for Solution Integrators and OEM Suppliers

AUSTIN, Texas (April 7, 2003) - Responding to customer demand, Touch International today announced the addition of T8, 8-wire resistive touch screen technology. T8 is designed for drop-in replacement to competitor offerings where 8-wire technology is used. Touch International is already delivering T8 product to Fortune 100 companies in America and Europe.

"8-wire resistive is not my first technology choice as our T6, patented 5-wire resistive technology, offers the same functionality and is certainly more durable, stated 15-year touch screen veteran, Michael Woolstrum. "At the same time, customer needs are our top priority. We value being the industry leader as the most responsive, experienced, solutions-oriented touch screen manufacturer."

Woolstrum contributes sustained 8-wire customer demand to the lagging economy, "many companies are keeping engineering teams lean and changing touch technology during the product lifecycle is often too costly to undertake."

T8 offers self calibration for sustained touch accuracy, chemically strengthened glass or polycarbonate support for improved breakage resistance, and pin-to-pin compatibility to competitor's products for easy drop-in replacement.

Touch International's T8 sensors compete with Dynapro (now 3M Touch Systems) and Gunze, a Japanese company. T8 is available in sizes 8.4 inches to 18.1 inches. Product options include choice of anti-glare or polished finish controllers to support most operating systems, including Windows, Dos Linux, Mac, and OS/2 and choice of USB or Serial (RS232).

About Touch International
Founded by three industry veterans, Touch International, Inc. is a privately-held worldwide supplier of high-quality touch screen components. Touch International offers a wide variety and rapid delivery of lower-priced, high-reliability products, based on customer needs and specifications. The company's Custom Manufacturing Solutions Center is based in Texas. Additionally, Touch International has formed partnerships with leading touch screen component manufacturers with state-of-the-art, high-volume production plants in Taiwan and Southeast Asia. Touch International has headquarters in Austin, Texas and Trier, Germany, with 21 additional sales and support offices on four continents.

See the company website at www.touchinternational.com

For Information, Contact:
Michelle Sims, Touch International
(512) 388-0090, ext. 26
Email: msims@touchintl.com < mailto:msims@touchintl.com>

Related