Touchscreen Panel Computers support pharmacy management.
Press Release Summary: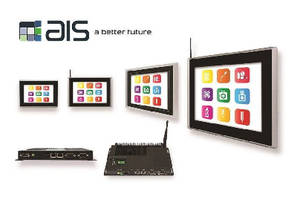 Offering web-based solution with wireless connectivity, interoperability, and communications with other equipment, Single and Multi-Touch Screen Panel Computers and Open HMI Solutions can be integrated into OEM automated medication dispensing machines and pharmacy management systems. Systems help minimize medication errors and redundant data entry while maximizing nursing and pharmacy staff efficiency and facilitating medication tracking/regulatory compliance.
---
Original Press Release:

AIS Announced New Single and Multi-Touch Screen Panel Computer and Open HMI System Solutions for Hospital and Pharmacy Automation, Internet of Things Applications



AIS Highly Reliable, All-In-One Touch PCs and M2M Control Panels are Easily Integrated into OEM Automated Medication Dispensing Machines and Pharmacy Management Systems



IRVINE, CALIFORNIA – American Industrial Systems, Inc. (AIS) the leader in the engineering and manufacturing of open architecture, Browser-based HMIs, Industrial panel (IPCs) and touch-panels for a broad range of industrial, commercial and medical industries, announces their new Single and Multi-Touch Screen Panel Computers and open HMI solutions specifically designed for Pharmacy Automation, M2M and Internet of Things (IoT) applications. AIS has engineered a new family of reliable, compact, and highly integrated family of Touch PCs and M2M control panels suited for OEM automated medication dispensing machines and pharmacy management systems.



The explosive growth in Pharmacy Automation applications combined with the advent of new Internet and Smart technologies within the Internet of Things (IoT) puts AIS's open architecture touch PCs and M2M panels in an advantageous position for these applications. In addition, as a pioneer in the utilization of projected capacitive touch (PCT or PCAP) technology for their multi-touch HMIs and touch-panels, AIS offers a wide range of displays and sizes. Furthermore, their "all-in-one" PC-based touch panels deliver advanced performance, features and functions, while facilitating operator control and monitoring in Pharmacy Automation and other healthcare applications.



Growing Pharmacy Automation Market Applications Require Greater Flexibility, Efficiency & Connectivity from M2M and Web-Based HMI Controls

Pharmacy automation is the automating of tasks performed in pharmacy or other health care settings within companies. Any pharmacy task can be involved, including counting small tablets, capsules, measuring and mixing powders and liquids for compounding; tracking and updating customer information in databases for personal identification information (PII), medical history, drug interaction risk detection; and inventory management. AIS Touch-Panel Interfaces empower pharmacists, nurses and medical workers by providing an easy-to-use interface, web-based solution with wireless connectivity, interoperability and communications with other equipment.



Automated Dispensing Systems with Web-based, HMI Touch-Panels from AIS Help Pharmacists & Nurses Increase Productivity and Profitability

The need for cost reduction, lowering of medication errors, increasing efficiency of work within the pharmacies, system integration, productivity and provision of additional time to clinicians and pharmacists for patient care are the major drivers for the market. Stringent regulatory guidelines and high costs of implementation of automation systems are some of the key factors restraining the growth. However, the increase in awareness regarding the benefits of pharmacy automation systems using AIS's intelligent PC-based HMIs will help drive growth.



The immediate opportunities for implementing Single or Multi-Touch Screen Panel Computers from AIS includes: automated medication dispensing systems, automated packaging and labeling systems, automated medication compounding systems, storage and retrieval systems, table-top counters, and other systems. The market is segmented into inpatient pharmacy units, outpatient pharmacy units, retail pharmacies, and pharmacy benefit management organizations and other mail-order settings. The inpatient market is further broken into other categories such as acute care setting and long-term care setting; while the outpatient pharmacy automation market is segmented into fast-track clinics and hospital pharmacies. Automated dispensing equipment with AIS's single or multiple touch HMI Panels offer these benefits:

• Reduce medication errors and improve quality of care

• Improve nursing and pharmacy staff efficiency by reducing manual steps and processes

• Heighten medication security and diversion prevention

• Improve medication tracking and regulatory compliance

• Reduce inventory costs and optimize inventory to minimize impact of drug shortages

• Minimize redundant data entry, system maintenance, and IT involvement

• Seamlessly integrate healthcare information systems (HIS)



Improving Nursing Workflow across the Healthcare Enterprise, Including Long-Term Care Settings, with Powerful Operator Interface and Visualization Solutions from AIS

Pharmacy automation equipment varies greatly. Many systems were developed well over a decade ago and are not functioning with the latest, state-of-the-art software and hardware. Some pharmacy management systems are excellent tools in the beginning, but as it ages it becomes less reliable. When there is a problem, fixing it takes valuable time, especially when service is delayed. Then pharmacists are overwhelmed and customers may wait longer for their prescriptions. Patient satisfaction and safety starts with the nurse at pharmacies and other healthcare facilities. AIS touch panel displays play an important role in enabling and speeding-up workflows for nurses. Integrated with automated dispensing cabinets (ADCs) and pharmacy management systems, AIS Touch-panel PCs create better workflow to improve how medications are managed. Here are some more benefits.

• Empower nurses to work more efficiently

• Keep medications more secure

• Reduce interruptions—saving time and reducing medication errors

• Supports compliance with evolving regulations



AIS recently introduced their new series of HMIs, including: the Premium, Standard and Compact HMIs. Key features of the entire range of new, open HMI touch panels from AIS include:

• Open & standard interfaces in hardware & software for HMI, SCADA & MES applications

• PC-based automation using standard Ethernet & TCP/IP for easy HMI/SCADA & IT/OT integration

• Web-enabled HMI with HTML5-compliant web browsers for improved real-time decision making

• Easy to replace, highly modular designed field-replaceable front display and box PC

• Maintenance-free illumination system with lifetime rating of 80,000-100,000 hours on Eco mode

• Expandable HMI solutions with multiple configurations & options for fast project engineering

• International marks and schemes for safety equipment, certification and regulatory compliance

• Suited for IT-OT convergence, M2M communications, Industry 4.0 and IoT ready for future requirements



About AIS

Headquartered in Irvine, California, USA, American Industrial Systems, Inc. (AIS) offers in-house electronic and mechanical design, software development, manufacturing, production and quality control services. Offering one of the widest ranges of industrial computing solutions, AIS solutions are available in a multitude of configurations for industrial, oil & gas, military and marine applications. The company is fully committed to empowering, improving and delivering turnkey HMI, monitoring and display solutions for OEM, ODM and end-user customers. AIS is an ISO 9001:2008 certified supplier and manufacturer of rugged computers and displays, and received completion of the International Traffic in Arms Regulations (ITAR) registration from the Directorate of Defense Trade Controls (DDTC). For more information, visit: www.aispro.com, email: sales@aispro.com or contact: 1-888-485-6688.



Media Relations Contact:

American Industrial Systems, Inc.

David G. Martorana

Marketing & Public Relations

1.847.630.6487 or dynmarent@gmail.com

More from Electrical Equipment & Systems