Touchscreen Feeder Controller supports up to 16 devices.
Press Release Summary: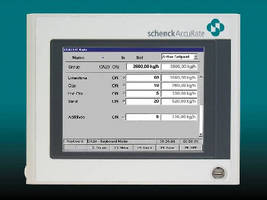 Designed for management of up to 16 gravimetric screw feeders, weighfeeders, and mass flow meters, DISOCONT® MASTER Touch Group Controller is suited for processes where multiple feeders are controlled or monitored from single workplace, at a specific ratio as part of overall group setpoint. Unit offers recipe management, measurement value selection, and ability to display, analyze, and acknowledge events. Control can be packaged in panel, wall, or pedestal mount IP65, NEMA 4 type enclosure.
---
Original Press Release:

New Group Manager Feeder Controller



Designed for the management of up to 16 gravimetric screw feeders, weighfeeders, and mass flow meters, Schenck AccuRate introduces the DISOCONT® MASTER Touch Group Controller to the North American marketplace. The DISOCONT® Master is perfect for processes when multiple feeders are to be controlled or monitored from a single workplace, at a specific ratio as part of an overall group setpoint, and when a group of feeders are controlled by a master gravimetric feeder.

Features of the DISOCONT® MASTER Touch Group Controller include easy touch screen operation, recipe management, displaying, analyzing, and acknowledging events, resetting the totalizing counter, measurement value selection, and interlocking feeders in a group. Fieldbus, language translation, and batch reporting are available options.

The DISOCONT® MASTER Touch Group Control can be packaged in a panel, wall or pedestal mount IP65, NEMA 4 type enclosure. Typical installations can be found in a control room or control cubicle where the system communicates with the feeders via a databus reducing cabling requirements. For more information on this product release visit the Schenck AccuRate web site at www.accuratefeeders.com.

Schenck AccuRate is a global supplier of bulk solids metering equipment and systems including MECHATRON® Volumetric and Gravimetric Screw feeders, DEA and DMO Weigh feeders, Multicor(TM) and DLM Dry Material Flow meters, SacMaster® Bulk Bag Discharging Systems, BEMP(TM) Belt Scales and SolidsFlow(TM) Vibratory Feeders. For additional information on Schenck AccuRate products, contact us at (800) 558-0184, by fax at (262) 473-4384 or visit www.accuratefeeders.com


More from HVAC