Touchscreen Controller utilizes smartphone technology.
Press Release Summary: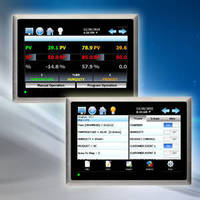 With Model EZT-570S, users can control environmental chambers with icon-based navigation like smartphone or with Windows-based drop down navigation. All features are built into interface so no additional software or internet is required. From home screen, users can manually control, run, or stop profile and view snapshot of current activity, such as actual/setpoint values, datalogging, security, and IP address. Notification system sends email and/or text message in event of chamber alarm.
---
Original Press Release:

CSZ Introduces Next Generation EZT-570S Controller



Cincinnati Sub-Zero's (CSZ) new EZT-570S touch screen controller is designed with an improved interface and added functionality for ease of use. The controller, which utilizes smart-phone technology, allows users to choose to navigate their environmental chambers with icon-based navigation like a smart phone or with windows-based drop down navigation similar to previous CSZ controllers.



Bob Nelson, Vice President & GM, said, "We understand our customer's needs for the latest technology in environmental chamber control. The EZT-570S is designed with technology in mind and aims to simplify programming and save valuable time."



All features are built into the controller interface so no additional software or internet is required for access to all the features the controller has to offer. From the home screen users can now manually control, run or stop a profile and view a snapshot of current activity like actual/setpoint values, alarm, datalogging, profile, security, IP address information and more. The home screen is also customizable to view up to five loops at one time.



Additional Features Include:



Communications:




Control the chamber remotely from your PC, smartphone or tablet using LAN/VNC.



Alarm notification system sends email and/or text messages in the event of a chamber alarm, saving valuable tests while reducing downtime.



Profiling




Program an unlimited number of profiles with up to 99 steps and 100 cycles.



Ramp steps may be programmed by entering time or degrees C/minute.



Data Logging




Configurable log interval, data file length, file name and an unlimited number of operator notes may be saved to the data file.



Easily download profiles and more using USB or email from controller in a compatible .csv file format for ease of use.



About Cincinnati Sub-Zero (CSZ)

CSZ provides standard & custom-designed environmental test chambers including stability chambers, temperature-cycling chambers, humidity chambers, accelerated stress-testing chambers, HALT & HASS chambers, thermal-shock chambers, altitude chambers, AGREE vibration chambers, industrial freezers, and more. Sizes range from small benchtop chambers to full walk-in / drive –in rooms. Please visit http://www.cszindustrial.com for additional information.



More from Thermal & Heating Equipment