Touch-Sensor Controller Chip replaces buttons on electronic devices.
Press Release Summary: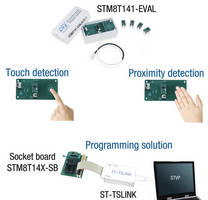 Model STM8T141 touch sensor controller chip that is designed for main power-on/off control or to trigger wake-up from battery-saving sleep modes. Drawing current as low as 11 µA from battery, 3 x 2 x 0.6 mm, 8-pin unit monitors single touch-sensing electrode embedded on control panel or outer casing of device. It supports proximity sensing, for control without direct contact from user, and driven electrode-shielding wire, which protects against noise from external sources.
---
Original Press Release:

STMicroelectronics Enhances User Experience for Portable Devices with Single-Channel Touch-Sensor IC for On/Off/Wake-up Control



Ultra-miniature and ultra low consumption capacitive touch/proximity controller enables sleeker user interface and a smoother way to wake devices from battery-saving sleep modes

Geneva - STMicroelectronics (NYSE: STM), a leading developer of semiconductors for mobile and consumer products, has released details of a touch-sensor controller that improves the performance and styling of products such as mobile phones, portable consumer products and appliances.

Consumers will find these products more stylish because the new controller allows replacement of traditional buttons with a touch sensor for main power-on/off control or to trigger wake-up from battery-saving sleep modes.

The success of wireless devices in the home, office and on the road is leading to more and more battery-powered nomadic products that must achieve long battery recharge intervals while also providing powerful functionality such as advanced sensing capabilities that can detect either human touch or proximity. ST's new chip, the STM8T141, helps designers meet both of these demands.

Already in production for a leading cellphone maker, the 8-pin STM8T141 draws a current as low as 11 microamps from the battery and can detect user presence via the touch-sensor electrode, responding quickly to wake the system from a low-power sleep mode. The chip is designed to monitor a single touch-sensing electrode embedded on the control panel of the end product or in the outer casing. The sensor may be hidden, or its position indicated using a printed, overlaid or illuminated icon.

The new controller also supports proximity sensing, allowing equipment to be controlled without direct contact from the user. This allows the sensor to control power-saving features such as system wake-up on user detection, or features for added convenience such as automatic backlight activation supporting find-in-the-dark capability. Hence using the STM8T141 for touch or proximity detection helps product stylists achieve their desired look and feel in a wide variety of product designs.

The STM8T141 features built-in calibration and compensation, which saves time during product manufacture and allows touch sensing to operate reliably for the lifetime of gadgets such as kitchen appliances, universal remote controls, game terminals, home-A/V products, wireless keyboards, personal media players, audio headsets and many other products. The device also supports a driven electrode-shielding wire, which protects against noise from external sources without the reduction in electrode sensitivity experienced with a grounded shield.

Main features of the STM8T141:


Configurable single output for reporting touch or proximity detection


Four sensitivity levels allowing adjustment for panel material and thickness


Low consumption: 11 microamps in low-power mode, 30 microamps in run mode


Capacitive-charge-transfer sensing technique


On-chip voltage regulator enabling enhanced performance and low parts count


Self calibration


Automatic recalibration


Environment compensation filter, sensitivity threshold, de-bounce filter

Development Tools

In addition, a number of development tools are available from ST to enable fast design starts. The STM8T141-EVAL evaluation kit provides an easy-to-use and low-cost demonstration of the chip's touch and proximity features. In addition, the ST-TSLINK programming dongle and STM8T14X-SB socket programming board are used with the STVP PC-based programming tool for fast and efficient product configuration.

Price and availability

The STM8T141 is already sampling to lead customers in the 3x2x0.6mm ultra-small and low-profile DFN8 package, and is now in volume production.

High volumes are available immediately in the narrow variant of the well-known SO-8 package for pricing of $0.45 in quantities of 10,000.

About STMicroelectronics

STMicroelectronics is a global leader serving customers across the spectrum of electronics applications with innovative semiconductor solutions. ST aims to be the undisputed leader in multimedia convergence and power applications leveraging its vast array of technologies, design expertise and combination of intellectual property portfolio, strategic partnerships and manufacturing strength. In 2009, the Company's net revenues were $8.51 billion. Further information on ST can be found at www.st.com.

More from Controls & Controllers