Touch Screen Thin Clients offer centralized management.
Press Release Summary: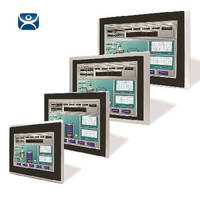 Equipped with Intel® Atom™ processors, Compact ACP-Enabled BIOS Thin Client Touch Panel PCs are available with screen sizes from 7–22 in. Fanless units allow users to achieve both distributed HMI control schemes with client-server architecture and/or machine level control connected to other control systems. From remote location, ThinManager shows what thin clients are operating, what terminal servers they are assigned to, whether they are logged in, and what applications they are running.
---
Original Press Release:

AIS's Touch Screen Thin Client with Intel Atom Processors Offers High Resolution Displays in 7, 10, 12, 15, 17, 19, and 22 Inch for Distributed HMI Solutions with Client-server Applications



AIS's ThinManager-ready, High Performance, and High System Availability Compact Thin Client Panel Supports Central Device Management for Multiple Thin Clients via Remote Configuration Center



IRVINE, CALIFORNIA – American Industrial Systems, Inc. (AIS) an innovator and the leader of Industrial HMIs, Touch Panel Computers, Industrial PCs (IPCs), Industrial Box PCs, Industrial DIN-Rail PCs, and Industrial Thin Clients, releases a Compact, ACP-enabled BIOS Thin Client touchscreen now equipped with Intel® Atom™ Processors  available in extensive assortment of screen sizes ranging from 7", 10", 12", 15", 17", 19" and 22"displays. These new Compact, Rugged Thin Client Touch Panel PCs from AIS are ultra-compact, industrialized computers which provide centralized management solutions for the modern factory and office by simplifying management of applications and visual sources. They are ideal for client-server applications as they can be configured in a central location instead of individually at each client, allowing users to customize or configure various AIS displays to connect to a client-server hub or remote configuration center.



ACP BIOS Pre-Loaded onto AIS's ThinManager- Ready Compact Thin Client PCs Can Download Firmware Directly from ThinManager

AIS ThinManager-Ready Thin Client PCs and Panel Industrial PCs (IPCs) are highly advanced control terminals. Flexible in design, features, open architecture and display size offering, these industrial compact, thin client panels from AIS allow users to achieve both distributed HMI control schemes with client-server architecture and/or machine level control connected to other control systems.



Rugged, ThinManager-Ready, Compact Thin Clients Panel PCs from AIS Have All the Necessary Certifications & Approvals for a Broad Range of Environments and Applications

Application environments can range greatly for thin-client touchscreens products. An industrial location can be dirty, nasty, tough environmental with dust, vibration and shock and extreme temperatures, while some dynamic office environments require more advance control, network and communications. AIS's Compact Thin Client Panel PCs will easily serve either environment aptly. ACP ThinManager platform enables IT infrastructure advanced control, M2M from one central hub and deliver a superior visualization solution. The new Thin Client IPCs thrive and perform in tough industrial environments. Featuring a lightweight aluminum die-cast housing, the AIS Compact ThinManager-Ready, Thin Clients offer a host of features and benefits for challenging industrial locations and office applications:

• Rugged, Durable Construction

• Easy-to-Service, Low Maintenance

• Compact and Space-Saving

• Fan-less Operation for High Availability & High Reliability

• Capable to Withstand a Wide Range of Ambient Temperatures of 50° C

• Certifications and Approvals Including UL Listing, CE Marking & CB Scheme, FCC & CE Compliant

• Resists High Electro Magnetic Environments, High Vibration, Shock & Dirt

• Solid State and Fan-Less Designs Provide Silent Operation

• A Wide Range of Industrial I/O Enables Versatile Connectivity for Displays & Peripherals



Centralized Management, Centralized Client Configuration & Remote Management with a ThinManager-Ready, Compact Thin Client Touchscreens from AIS

ThinManager-Ready Thin Clients from AIS provide the ability to control and manage thin clients from any location while letting you monitor its status, change configurations, reboot the thin client, disable or enable the thin client, or shadow the thin client from a central location. You can connect and manage a remote ThinManager and thin clients from a local ThinManager if you have the right credentials.



ThinManager-Ready Compact Thin Client Panels from AIS also allow the monitoring of the thin client from a central (or remote) location. ThinManager shows what thin clients are operating, what terminal servers they are assigned to, whether they are logged in, and even what applications they are running.



A Small Overall Footprint Allows AIS Compact Thin Client Touch Panel PCs to be Installed Wherever a New Terminal is Required, Without Concern for the Environment or Location

AIS Thin Client Touchscreens IPCs are for customers that require a rugged, powerful touch panel computer with a smaller form factor to fit in space-limited areas. Utilizing a 24V DC isolated, industrial power supply, the AIS thin client is a panel mounted unit with low energy requirements and are available in many display screen sizes for installation flexibility. Loaded with loads of features and connections to facilitate integration, AIS's industrial thin clients offer high-speed Ethernet and USB 3.0 port and flexible serial ports. Its fan-less design eliminates dirt and dust from potentially entering and damaging the HMI, therefore reliability is greatly increased. Eliminating the need for a hard drive and moving parts, also makes them much more reliable due to solid state designs.



About AIS

Headquartered in Irvine, California, USA, American Industrial Systems, Inc. (AIS) offers in-house electronic and mechanical design, software development, manufacturing, production and quality control services. Offering one of the widest ranges of industrial computing solutions, AIS open platform control and monitoring solutions are available in a multitude of configurations for industrial, building automation, oil & gas, military and marine applications. The company's HMI solutions are key enabling technologies for the Internet of Things (IoT), Industrial Internet of Things, (IIoT), Machine-to-Machine Communications (M2M) and Industry 4.0 applications. AIS is fully committed to empowering, improving and delivering turnkey HMI, control, monitoring and display solutions for OEM, ODM and end-user customers. AIS is an ISO 9001:2008 certified supplier and manufacturer of rugged computers and displays, and received completion of the International Traffic in Arms Regulations (ITAR) registration from the Directorate of Defense Trade Controls (DDTC). For more information, visit: www.aispro.com, email: sales@aispro.com or contact: 1-888-485-6688.



Media Relations Contact:

American Industrial Systems, Inc.

David G. Martorana

Director Marketing & Communications

1.847.630.6487 or dynmarent@gmail.com

More from Electronic Components & Devices