Computer and Communication Terminals
Touch Screen Terminal supports high-end HMI applications.
Press Release Summary: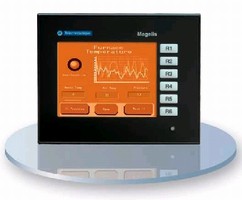 Measuring 3.8 in. wide and programmed with Vijeo Designer(TM) software, Telemecanique® Magelis® XBT-GT 1000 monochrome graphic terminal features 6 function keys, 320 x 240 pixel resolution, and embedded FTP server for diagnostics. It integrates Ethernet and can be simultaneously connected on Modbus®, Modbus TCP/IP, and Uni-Telway(TM). User-selectable features include trends and procedures for high-level integration and audible buzzer that acknowledges operator commands.
---
Original Press Release:


New Magelis® XBT-GT Touch Screen Terminal Combines Power, Functionality In A Small Package




PALATINE, Ill. - NOVEMBER 1, 2005 - The industry's most comprehensive and powerful range of graphic touch screen terminals just got smaller. The new Telemecanique® Magelis® XBT-GT 1000 Series terminal is small and compact, yet powerful enough to support high-end HMI applications.

Just 3.8 inches wide, the monochrome graphic terminal is programmed with Vijeo Designer(TM) software, one of the most user-friendly programming software products on the market. The Magelis XBT-GT terminal features six function keys to reduce implementation time and costs, exceptional screen display quality, and an embedded FTP server for easier diagnostics.

"The Magelis XBT-GT stands out as the best of this generation of small graphic terminals," says Haroon Rashid, product manager for the Industrial & Automation Controls Group, Schneider Electric North America. "With features such as multiple languages and font sizes, the terminals are perfect for OEM customers selling in global markets."

The Magelis XBT-GT terminal is open - it integrates Ethernet and can be simultaneously connected on Modbus®, Modbus TCP/IP and Uni-Telway(TM) for communication flexibility. Other features users can select include trends and procedures for high-level integration and an audible buzzer that acknowledges operator commands.

The terminal also gives operators a high-quality screen image for ease of use and visual comfort. This includes a high-visibility screen with 320-by-240 pixel resolution and eight grayscale levels. The terminal also offers amber display for better operator visibility and a choice of red tint to better display faults and alarms.

For more information about the Magelis XBT-GT 1000 Series terminal or other Telemecanique automation and control products from Schneider Electric, call 1-800-392-8781 or visit www.us.telemecanique.com.

Headquartered in Palatine, Ill., the North American Operating Division of Schneider Electric had sales of $2.6 billion (U.S.) in 2004. The North American Operating Division is one of four operating divisions of Schneider Electric, headquartered in Paris, France, and markets the Square D, Telemecanique and Merlin Gerin brand products to customers in the United States, Canada and Mexico. In the United States, Schneider Electric is best known by its flagship Square D brand, with Telemecanique becoming increasingly known in the industrial control and automation markets and supported by many Square D distributors. For 100 years, Square D has been a market-leading brand of electrical distribution and industrial control products, systems and services. Schneider Electric is a global electrical industry leader with 2004 sales of approximately $12.8 billion (U.S.). Visit Schneider Electric on the Internet at:

Corporate - www.us.schneider-electric.com
Telemecanique Products - www.us.telemecanique.com
Square D Products - us.squared.com
Merlin Gerin Products - us.merlingerin.com


More from Controls & Controllers