Touch Screen meets FAA regulations.
Press Release Summary: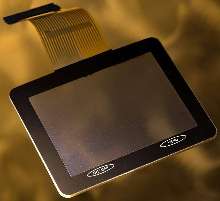 Shatterproof, self-extinguishing unit, suited for in-flight entertainment systems, consists of one optically pure, 14-layer touch screen. With built-in electromagnetic shield, it uses proprietary techniques and materials to counteract effect of multiple layers on quality and quantity of light transmitted through touch screen. Unique viewing angle provides privacy to users while they play video games, watch movies, or access the Web.
---
Original Press Release:

Touch International Produces Fourteen Layer, Self-extinguishing, Shatterproof Touch Screen for In-flight Entertainment Applications


Custom designed for industry leading aerospace manufacturer

BALTIMORE, Maryland - May 20, 2003 - Touch International today showcased a new shatterproof, self-extinguishing touch screen, designed for implementation inside in-flight entertainment systems. Using proprietary techniques and materials to counteract the effect of multiple layers on the quality and quantity of light transmitted through a touch screen display, Touch International designed and produced an optically pure 14-layer, touch screen that meets both Federal Aviation Administration (FAA) regulations and the requirements of entertainment applications. This is the first in a family of touch screens that the company is introducing for a wide range of aerospace applications. The product will be on display at the Society of Information Display trade show, May 20-22, 2003, at the Baltimore Convention Center, Baltimore, Maryland, in booth number 405.

The torch test is among the most rigorous FAA testing protocols. Touch International's touch screen passed the torch test, self-extinguishing a 1200 degree fire within seconds. Additionally, the touch screen successfully proved, through extensive testing, that it will not shatter on impact. These tests ensure that the touch screen will not endanger passengers in the event of an accident.

Meeting passenger requirements for privacy, Touch International touch screens feature a specially designed viewing angle that allows users to watch in total privacy. This is a key feature of in-flight entertainment systems with new offerings including internet access, movies, and video games within individual passenger seats. Another important feature is the built-in electromagnetic shield (EMI) - which ensures the operation of the entertainment system does not interfere with the airplane's radio communications and electronics infrastructure.

These and other specialty touch screen products are designed and manufactured in Touch International's, Texas-based, Custom Solutions Center (CSC). Opened in July 2002, CSC builds components based on application-specific constraints or requirements. Examples of custom product features include: water proof, chemical resistant, flame retardant, smash resistant, high or volatile temperature ranges, hybrid membrane switch devices, heavy-duty shock resistance, day-light readable, and unusually small or large sizes and borders. CSC is currently producing a range of products in the military, aerospace, medical, industrial, retail, and consumer markets.

"Touch International's strategic initiative is to capture the number one market share position in the touch screen industry", stated Michael Woolstrum, chief executive officer of Touch International. "The Custom Solutions Center is a critical component to our success, because it compliments our product offerings. Through our global strategic manufacturing alliances, we are able to offer a broad range of touch screen products and match application requirements to the factory that is best suited to fulfill the project."

Through its multi-sourcing strategy, Touch International leverages high volume factories in Taiwan and Southeast Asia, enabling the company to offer a wide variety and rapid delivery of lower-priced, high-reliability touch screen products. The standard product offering includes four-wire, five-wire, and eight-wire resistive products as well as capacitive touch screens.

Web site: www.touchintl.com

More from Packaging Products & Equipment