Touch Panel is offered with tempered glass filter option.
Press Release Summary: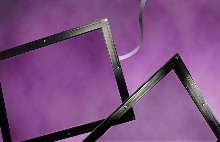 CarrollTouch 4000U, with USB controller board, provides one USB interface to host PC and low-profile, infrared, touchscreen sensors that retain optical beam density of 22 points/in. Sensors are available with no filter, glass or acrylic filter, and tempered glass filter. Touchscreens are offered in 10.4, 12.1, 15.0, 15.1, and 17.0 in sizes with 4,096 x 4,096 resolution. Product offers light-transmission rates up to 100% that do not compromise image quality or color purity.
---
Original Press Release:
Elo Touchsystems Expands the Spectrum of Its Carrolltouch Family with New Controller Board, Chipset, Additional Screen Sizes and Tempered Glass Filter

Fremont, California--May 20, 2003--Elo TouchSystems, Inc., the global leader in touch technology and a business unit of Tyco Electronics, has expanded its family of CarrollTouch infrared touch technology products with the addition of a new USB controller board (4000U), three new, low-profile screens (10.4", 15.0", and 17.0"), a new ruggedized tempered glass filter for vandal-resistant protection, and a controller ChipSet that will provide volume users with greater design flexibility and cost savings solutions.

The new 4000U controller provides a USB interface to the host PC. The new touchscreen sensors retain the low profile and slim form factor and continue to provide a high optical beam density of 22 points per inch. When compared with an average industry density of 8 to 14 points per inch, Elo's low-profile infrared sensors deliver a more precise performance. In addition to the filter options of glass, acrylic and no filter, the new 6-mm-thick tempered glass filter is ideal for applications that require protection in a rugged environment. Other applications for Elo's CarrollTouch family include indoor/outdoor kiosks, ticketing machines, medical equipment, industrial automation and point of sale (POS).

Standard Sizes

"CarrollTouch infrared touch technology is now an even more affordable optical technology for the broadest range of indoor and outdoor applications," says Elo product manager, David Chen. "It is the perfect solution for those applications that require the highest clarity and durability in a broad range of environments, including direct sunlight." According to Chen, CarrollTouch's standard 10.4", 12.1", 15.0", 15.1" and 17.0" touchscreens remain the most popular sizes. CarrollTouch low-profile sensors provide a slim form factor that allows for easy integration in areas where space is at a premium. The sensors are available with four filter options: no filter for maximum optical clarity, glass or acrylic filter for standard protection, and the new tempered glass filter for use in rugged environments.

Elo's CarrollTouch infrared touch technology provides one of the highest light-transmission rates in the market - up to 100 percent, based on filter option - so there is no compromise of image quality or color purity.

The glass, acrylic, and tempered glass filters protect the display with minimal loss of image clarity.

The Controller Board and Controller Chip

"The new 4000U USB controller board has the same form factor and 4096 x 4096 resolution as the 4000S serial controller it complements," says Chen. "It increases the flexibility of connection to the host computer." According to Chen, Elo's new ChipSet provides support for either a USB or serial interface now combined in a single chip offering an economic solution to OEMs who seek design flexibility.

For more information on Elo's products and services, please contact Elo TouchSystems at 800-ELO-TOUCH (800-356-8682), visit Elo's Web site at www.elotouch.com, or direct electronic mail inquiries to eloinfo@elotouch.com.

Public Relations Contacts:

Barbara Van Gennep

Marcom Manager

Elo TouchSystems, Inc.

Tel: 510-739-4670

bvangenn@elotouch.com

Peter Ferris

Tyco International (US) Inc.

Tel: 603-334-3933

pferris@tyco.com

CarrollTouch is a trademark of Elo TouchSystems, Inc. All other products and company names referred to herein may be trademarks or registered trademarks of their respective companies or mark holders.

About Elo TouchSystems

Elo TouchSystems, Inc., global leader in touch technology, is a business unit of Tyco Electronics. Elo develops, manufactures and markets a complete line of touch products that simplify the interface between people and computers in both public-access and employee-activated applications. Founded in 1971, the company is headquartered in Fremont, California, with manufacturing sites in the U.S., Belgium, Taiwan, and Japan. (Elo operates in Japan under the name of Touch Panel Systems). Elo's main regional offices are in Kessel-Lo, Belgium and Yokohama, Japan, with additional sales and technical support offices worldwide. For more information on Elo TouchSystems' products and services, call 1-800-ELO-TOUCH in the U.S. or visit our Web site at www.elotouch.com.

About Tyco Electronics

Tyco Electronics is the world's largest passive electronic components manufacturer; a world leader in cutting-edge wireless, active fiber optic and complete power systems technologies; and is also rapidly developing extensive networking and building technology installation services. Tyco Electronics provides advanced technology products from over forty well-known and respected brands, including Agastat, Alcoswitch, AMP, AMP NETCONNECT, Buchanan, CII, CoEv, Critchley, Elcon, Elo TouchSystems, M/A-COM, Madison Cable, OEG, OneSource Building Technologies, Potter & Brumfield, Raychem, Schrack, Simel and TDI Batteries.
Related