Touch Panel comes with integrated Web browser.
Press Release Summary: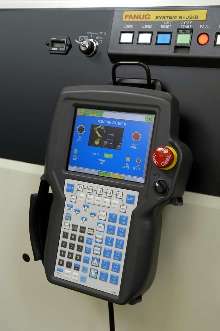 Touch Panel iPendant user interface for R-J3iB Robotic Controller allows user to access corporate Web sites, electronic documentation, advanced diagnostic information, or other equipment directly from controller. Email capability allows robot to automatically send messages regarding errors or production status. Ergonomic design includes multi-window display and color LCD screen, and unit also provides integrated help and diagnostic functions.
---
Original Press Release:
FANUC Robotics Demonstrates New Touch Panel iPendant with an Integrated Web Browser at IMTS 2004
ROCHESTER HILLS, Mich., Sept. 8, 2004 - FANUC Robotics America, Inc. will demonstrate the new Touch Panel i Pendant with patented Web Browser technology, during IMTS 2004 at McCormick Place in Chicago, Sept. 8-15, in the Emerging Technology Center. The i Pendant is a color graphic user interface device for the R-J3iB Controller that includes an integrated Internet Web browser allowing critical support information to be accessed right from the robot. Users can access corporate Web sites, FANUC electronic documentation, advanced diagnostic information, or other equipment. It provides a single point of access to Web-based information. "The integration of the Web browser as part of the teach pendant is the largest innovation in robot teach pendant capability in more than 10 years. With this patented technology, users have the power of the network in the palm of their hands," said Glenn Nowak, manager of controller software development. "This intuitive color graphic interface, coupled with the new Touch Panel, provides the user with a simple and understandable way to interact with the robot." The ergonomically designed i Pendant improves operator efficiency. Its intuitive multi-window display, large color LCD screen, and optional Touch Panel make it easy to use and learn. Users of the i Pendant can expect to see decreased training time due to the integrated help and diagnostic functions. With the addition of the new Integrated Diagnostic Resource Center - i Pendant edition (iDRC), the user can have instant access to more advanced diagnostic information including: Step-by-step diagnostic flow charts, schematics, connector pinout diagrams, and the new email capability, which allows the robot to automatically send emails regarding items such as errors or production status. All of these functions can significantly improve system uptime and productivity. Users can create customized displays using the PC-Based, EasyPanel development environment, or the new on-line Panel Wizard. Buttons, lamps, switches, dynamic graphs and bar charts can be easily combined to create custom HMI, production status, diagnostic, and a host of other types of screens, saving system costs by replacing PC's or other HMI devices. The i Pendant's Graphic Productivity Tools provide information on how the system is running, including tools to evaluate program cycle time and faults. With these tools, the user can quickly analyze their system's performance and make adjustments to improve system productivity. The i Pendant is provided with most R-J3iB Controllers and can be purchased as an upgrade option on the R-J3iB Mate Controller. At the show, the i Pendant will be incorporated into a variety of demonstrations for robotic welding, assembly, part transfer, machine tending, deflashing, bin picking, and finish machining. A hands-on demonstration will allow visitors to experience the new easy-to-use Touch Panel with custom HMI screens, and learn how it can increase productivity, and reduce overall system costs. FANUC Robotics America, Inc. designs, engineers and manufactures innovative robots and robotic systems for a wide range of industries and applications including arc and spot welding, material handling (machine tending, palletizing, packing), material removal, assembly, paint finishing and dispensing. The company also provides application-specific software, controls, vision products, and complete aftermarket support. After 22 years of success, FANUC Robotics maintains its position as the leading robotics company in the Americas. A subsidiary of FANUC LTD in Japan, the company has facilities in Chicago; Los Angeles; Charlotte, N.C.; Cincinnati and Toledo, Ohio; Toronto; Montreal; Aguascalientes, Mexico; and Sao Paulo, Brazil. FANUC Robotics can be found on the Internet at www.fanucrobotics.com or by calling 800-47-ROBOT.
Related