Touch 'n Seal Introduces Updated Foam Kit 15FR Polyurethane Foam System with New, Easy-to-Use Features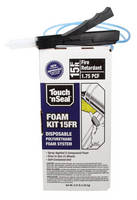 ST. LOUIS – Advancing their commitment to providing quality products to their customers, Convenience Products, the manufacturer of Touch 'n Seal insulating foams and sealants, introduces an updated and improved Foam Kit 15FR Disposable Polyurethane Foam System. The Foam Kit 15FR is a portable, self-contained dispensing system for two component polyurethane spray foam. It provides increased structural strength, as well as fire retardant sound and thermal insulation in a convenient package.



The enhanced Foam Kit 15FR System features a new squeeze-trigger applicator that makes it easier to operate and provides excellent metering from low to high output. To prevent accidental spraying during setup, the new trigger automatically locks into the OFF position when it is removed from the packaging. A new T-strap cradle ensures consistent activation of product for an even layer of foam insulation. The new Foam Kit 15FR is now labeled as a UL Listed, Class I Fire Retardant, and the applicator and packaging have been updated to ensure maximum product usage.



The updated Touch 'n Seal Foam Kit 15FR includes new packaging designed to communicate key points about the most efficient, proper usage of the product. On the outside of the new carton, there are set-up instructions for proper operation and a prominently displayed reminder about product usage in cold temperatures. On the inside of the rear access panel, detailed operating instructions and safe usage information have been updated to be consistent with all communications regarding the use and storage of polyurethane spray foam.



Suitable for commercial, residential, transportation and agricultural use, the Foam Kit 15FR is the ideal size for professionals to have on hand and use as needed. For more information, visit http://www.touch-n-seal.com or contact Touch 'n Seal Customer Service at 800-325-6180.



About Touch 'n Seal:

Convenience Products, the manufacturer of Touch 'n Seal products, is headquartered in St. Louis, Missouri. Touch 'n Seal insulating foams and sealants are the benchmark for performance in commercial and industrial building and maintenance, OEM manufacturing and specialty applications. A full line of one and two-component spray foams and adhesives are available, including fire blocking foam  (ICC-ES: ESR-1926), Low Pressure Window & Door Foam, Drywall Panel Adhesives, Heating Systems and Accessories, Two-Component, Disposable Units, Mining Specialty Units and One-Component Disposable Cylinders. Spray foam is available from 15-board feet kits to 120-gallon refill systems.  One-component straw and gun foam available in 12 to 30.5 oz. aerosol cans. More information is available at www.touch-n-seal.com, www.facebook.com/InsulatingSprayFoam and www.twitter.com/TouchNSeal.



Related