Touch Monitors suit indoor/outdoor applications.
Press Release Summary: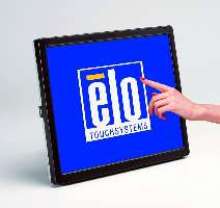 Models 1746L and 1749L are 17 in. rear-mount LCD monitors with IntelliTouch surface wave touchscreen and injection-molded minibezel with watertight seal. Model 1749L offers viewing angle of 170° V x 170° H, 500:1 contrast ratio, and 250 cd/m² brightness. Featuring same form factor, Model 1746L provides 140° x 140° viewing angle with similar contrast and brightness. Both have built-in support for serial and USB touch interface and remote multilingual on-screen display.
---
Original Press Release:

Elo Touchsystems Introduces New 17 Inch LCD Rear-Mount Touchmonitors


Designed for economy; offers customers a wider choice

MENLO PARK, CALIFORNIA (January 25, 2005) - Elo TouchSystems, Inc., the global leader in touch technology and a business unit of Tyco Electronics, today announces two new 17" Liquid Crystal Display (LCD) rear-mount touchmonitors; the 1749L, featuring a wide viewing angle panel, and the 1746L, with a lower spec panel. Both touchmonitors feature Elo's clear glass IntelliTouch surface wave touch technology for the utmost in optical quality. The touchmonitors complement Elo's existing family of 12.1", 15", 17" and 19" LCD chassis touchmonitors that feature a choice of Elo's touch technologies.

The 1746L and 1749L touchmonitors have identical form factors, differing only in their panel specifications, offering customers a choice that they can easily pass on to their customers. Both feature a unique injection-molded minibezel with a watertight seal that makes them ideal for indoor/outdoor kiosks, ticketing machines, medical equipment, industrial automation, and gaming/amusement applications, available with a choice of touch technologies.

"Elo has reduced the overall outside dimensions of the new 17" touchmonitors by about 10 percent in height and width, made them 13 percent thinner, and designed a new minibezel that is about 50 percent smaller, all while maintaining the overall integrity of the design," said Mike Sigona, Elo market manager. "This makes the 1746L and 1749L more convenient, allowing Elo's customers to expand the choice of economical touch solutions they can provide to their customers."

Same Footprint, Choice of Panel
Elo's 1749L 17" LCD rear-mount touchmonitor features a panel with a wide viewing angle of 170° vertical by 170° horizontal, 500:1 contrast ratio, and 250 cd/m² brightness. The pure glass IntelliTouch surface wave touchscreen maintains graphic quality and clarity, reducing the light transmission only slightly to 230 cd/m². "This wide viewing angle and brilliant display grab the user's attention," says Sigona. Also available in the same form factor is the 1746L, with a viewing angle of 140° by 140° and similar contrast and brightness, but at a lower price. Sigona notes, "The option of a lower spec panel with the same footprint allows Elo's customers to offer a value/performance choice to their customers or to different target markets, without requiring two different designs."

Long-Lasting Product Cycle
The 1746L and 1749L touchmonitors, like all of Elo's LCD chassis monitors, have a long-lasting product cycle because the enclosure is controlled by Elo's specifications. The monitors feature a unique injection-molded minibezel and virtually invisible watertight seal, plus a choice of mounting options including rear-mount VESA. The 1749L offers a Digital Video Input (DVI-I) in addition to the standard analog input. Both have built-in support for both serial and USB touch interface, a remote multilingual on-screen display (OSD), and well as worldwide power and agency approvals.

Elo TouchSystems, Inc., global leader in touch technology, is a business unit of Tyco Electronics. Elo develops, manufactures, and markets a complete line of touch products that simplify the interface between people and computers in both public-access and employee-activated applications. Founded in 1971, the company is headquartered in Menlo Park, California, with manufacturing sites in the U.S., Belgium, Taiwan, and Japan. (Elo operates in Japan under the name of Touch Panel Systems.) For more information on Elo's products and services, please contact Elo TouchSystems at 800-ELO-TOUCH (800-356-8682), visit Elo's web site at www.elotouch.com or direct electronic mail inquiries to eloinfo@elotouch.com.

IntelliTouch is a trademark of Elo TouchSystems, Inc. All other products and company names referred to herein may be trademarks or registered trademarks of their respective companies or mark holders.

Public Relations Contacts

Barbara Van Gennep
Marcom Manager
Elo TouchSystems, Inc.
Tel: 650.361.4670
bvangenn@elotouch.com

Mike Ratcliff
Tyco Electronics
Tel: 717.592.2316
mike.ratcliff@tycoelectronics.com

More from Materials