Tote Dumping System fosters sanitary material transfers.
Press Release Summary: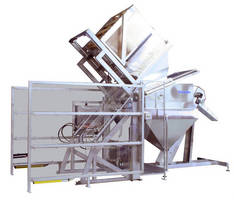 Intended for high-speed bottling lines with throughput of 600 or more bottles/min, sanitary closed transition tote dumper improves cleanliness when handling caps in bulk totes. Basic functionality involves tilting and pouring of large, heavy totes of caps into cap feeding systems, but funnel and close-coupled mating mechanisms prevent dust and debris present on outside of corrugated tote and its pallet from also being dumped into cap feeder.
---
Original Press Release:

Fowler Products Augments Its Bulk Cap Feeding Systems with a Unique, Sanitary Tote Dumping System



ATHENS, Georgia - Fowler Products, a division of Pro Mach, announced today that its bulk cap feeding systems for high speed bottling lines now include a new and unique sanitary closed transition tote dumper for improved cleanliness when handling caps in bulk totes.

Traditional tote dumping systems - machines that tilt and pour large, heavy totes of caps into cap feeding systems - do not incorporate features that prevent the dust and debris present on the outside of the corrugated tote and its pallet from also being dumped, along with the caps, into the bin of the cap feeder.

Fowler's "closed transition" tote system solves that problem. Before the tote is tilted over for dumping, it is first raised up to contact the opening end of a transition funnel effectively sealing the opening of the tote to the funnel. As the tote and funnel are rotated, the discharge end of the funnel docks with a mating receiving gate incorporated into the bin of the cap feeder. The funnel and close-coupled mating mechanisms effectively block outside debris from entering the bin of the feeder as the caps are dumped.

"Recently, when we've described the rationale for the closed transition tote dumper and shown how it augments our bulk cap feeding systems for high speed, highly automated bottling lines, customers unanimously said they want that option rather than an open transition solution," said Andy Monroe, sales manager, Fowler Products.

Use of totes increasing for a number of economic, safety, and sustainability reasons

"In the last two years, an increasing number of companies have caps delivered to their plants by bulk tote rather than small individual shipping cases," Monroe said. "Totes generally feed high speed bottling lines - 600 and more bottles per minute - more effectively than shipping cases. The primary reason is that totes lower material handling costs."

Other reasons that companies use bulk totes include:

The application of higher levels of automation and labor savings generated by these applications

Keeping the areas around bottling lines cleaner by locating the cap feeding systems alongside other material handling areas remote from the filling room

Improved sustainability through reuse of totes rather than recycling or disposal of large numbers of corrugated shipping cases

Improved worker safety through less forklift traffic near bottling lines

Lowering the potential for lost-time repetitive motion injuries, as well as lifting injuries and cut injuries from opening cases

For more information on Fowler Products closed transition tote dumper and solutions for bottle and jar capping, cap handling, bottle cleaning, and cap sterilization, call 1-877-549-3301 and visit www.fowlerproducts.com.

About Fowler
Fowler Products was founded in Athens, Georgia, in 1952. The company has an equity partnership with Andre Zalkin & CIE, Rueil-Malmaison Cedex, France, and is licensed to manufacture Zalkin bottle capping machinery. Furthermore, Fowler has the distribution rights for Zalkin bottle capping systems in the United States and the Caribbean Basin. In 2000, Fowler became a division of the Pro Mach group of packaging companies. For more information on Fowler products, services, and contacts, please visit www.fowlerproducts.com.

About Pro Mach
Pro Mach, Cincinnati, Ohio, is a leading provider of integrated packaging products and solutions for food, beverage, household goods, pharmaceutical, and other diverse consumer and industrial companies. Through three business units and related divisions, Pro Mach provides equipment, training, installation, and parts in primary packaging, end-of-line packaging, and identification and tracking. ProMachInc.com

More from Fluid & Gas Flow Equipment