Torque Limiter uses proximity sensor.
Press Release Summary: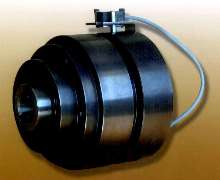 Torque Limiter disconnects main power source from down-stream components in event of torque overload or product jam. When overload occurs, proximity sensor embedded in air chamber sends signal to pneumatic, directional control valve to exhaust air from air chamber, which disconnects and protects system. Remote trip-torque setting with air regulator eliminates need for manual torque adjustments. Semi-open and totally enclosed units are available.
---
Original Press Release:
Nexen Introduces New Torque Limiter with Proximity Sensor

(Vadnais Heights, Minn. - September 9, 2003) Nexen Group, Inc., today announced their new Torque Limiter using Proximity Sensors from TURCK, Inc. The torque limiter disconnects the main power source from its down-stream components in the event of a torque overload or product jam, which protects the gear reducer, machine, and product.

When an overload occurs, the proximity sensor next or adjacent to a dowel pin embedded in the torque limiter's air chamber sends a signal to the pneumatic, directional control valve to exhaust air from the air chamber, which disconnects and protects the system.

The TURCK Proximity Sensor is mounted within the envelop of the torque limiter length, providing easier mounting and ensures proper torque transmission to extend product life. The torque
limiter's hard-chrome detent interface decreases drive-ring wear when the balls are pressed against the face during the jog-to-position engagement function. The air chamber is sealed with o-rings and back-up rings. The back-up rings prevent seal extrusion into the diametric gap between the piston and cylinder to extend seal life. The product's remote trip-torque setting with air regulator eliminates the need for manual torque adjustments as seen with mechanical torque limiters.

In semi-open units, Model sizes TL10A to TL80A, a seal keeps contaminates out of the ball and detent area. Totally enclosed units are nickel-plated and sealed to keep contaminants out of the ball, detent, and spline area, which makes them ideal on machines requiring wash down or where liquid products could splash on the unit. Nexen's torque limiters are used in the food processing, material handling, newspaper, bottling, and packaging industries.

Nexen is a leading manufacturer of brakes, clutches, servo motor and linear motion brakes, torque limiters, overload protection devices, and web tension control systems for a variety of industrial applications ranging from motion control and robotics to packaging and material handling. With headquarters in Vadnais Heights, Minn., Nexen has more than 40 worldwide sales offices and more than 1,500 worldwide distributor sales outlets. For more information on Nexen's line of motion control products, contact:

Bobbi J. Jensen

Marketing Communications

560 Oak Grove Parkway

Vadnais Heights, MN 55127

651/286-1054

www.nexengroup.com
More from Mechanical Power Transmission