Toriod Inductors are for surface-mounted power supplies.
Press Release Summary: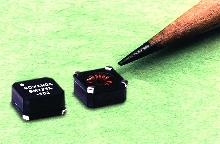 SMT35A Series has 2 windings on 1 core, allowing design engineer to use it as single inductor with windings connected in series for higher inductance, or in parallel for higher current, or as 1:1 transformer. Applications include high frequency switch mode power supplies, power regulators and dc/dc converters. Unit is self-shielding, compatible with all reflow assembly processes, UL94 V-O flammability compliant, and comes on tape and reel.
---
Original Press Release:
Surface Mount Inductors Offer Versatility and Efficiency, New "SMT35A" Inductor Series for Power Supply Applications Delivers Performance via "2-in-1 Construction

9 November 2001, Gowanda, NY (USA) - Gowanda Electronics announces the introduction of a new series of surface mount toroid inductors. This new SMT35A Series utilizes a core and package - and a -2-in-i" construction - that offers versatility and efficiency for power supply applications. The 35A series draws upon the proven performance of the company's SMT45 Series, but has been designed with a smaller footprint in response to the continuing trend for miniaturization of power supply components.

The SMT35A series is well-suited for power supply applications where minimization of power losses via smaller sized components is the goal. This new series can handle more power than most other products its size in the market. Its high efficiency core is designed to minimize core losses and enables the inductor to function at higher frequency.

This new series utilizes a '2-in-1" construction - a design with 2 windings on 1 core. This offers versatility to the electronic design engineer who can use the SMT35A as a single inductor - with windings connected in series to deliver higher inductance or in parallel to deliver higher current - or use it as a 1:1 transformer. The SMT35A Series uses a MolyPermalloy core, like the SMT45 Series, to deliver stability over a wide temperature range and performance at higher frequencies.

The SMT35A Series of surface mount inductors is specifically targeted for use in power supply applications where both high performance and small size are critical for current and future products. The series is ideal for use in high frequency switch mode power supply designs. This new line of inductors is well suited for use in microprocessor and distributed power applications - including power supplies, power regulators, and DC to DC converters - especially in test & measurement equipment, medical diagnostic equipment, and industrial process control equipment. Other applications include use in security systems, instrumentation, bar code and laboratory analysis equipment. Technical specifications for products in the SMT35A series include: inductance from .22 to 300 microHenries and current ratings from 10.9 to .58 Amps for parallel connections; inductance from .88 to 1200 microHenries and current ratings from 5.47 to .29 Amps for series connections.

The SMT35A series is virtually self-shielding, is compatible with all reflow assembly processes, and is UL94 V-O flammability compliant. It has 300 volt winding to winding isolation and is supplied on tape and reel for 'pick and place" processing.

This new SMT35A inductor series complements Gowanda's extensive range of leading edge inductor designs for RF and power applications, induding its most recently introduced 'SMRF 2007" Vertical Mount Inductors for RF Applications (news release 3 August 2001), 'SMP2007" Miniaturized Inductors for Power Applications (news release 18 May 2001), 'CC' Solderable Inductors (news release 18 January 2001), 'CMF2" Surface Mount Common Mode Filter (news release 3 October 2000) and 'Power Pod" Surface Mount Inductor (news release 12 April 2000).

Gowanda Electronics also offers custom designs to meet the specific requirements of an application. Gowanda Electronics is a privately held company that designs, manufactures and supplies precision magnetic components for both signal and power applications around the globe.

Components include inductors, chokes, toroids, and other surface mount devices which are used in a wide variety of electronic applications. Gowanda's products are used primarily by OEM companies interested in high performance electronic component solutions for the equipment they manufacture. Applications include use in test & measurement equipment, medical and diagnostic equipment, industrial automation & control equipment and instrumentation. Such equipment is used in a broad range of industries, including process and assembly industries, aviation, telecommunications, health care, data processing, security and education. Gowanda's customers include Fortune 500 companies and other significant players in these global markets, including Hewlett Packard, Agilent Technologies, Tektronix and Alcatel


More from Optics & Photonics