Toploader Robot suits machine tending applications.
Press Release Summary: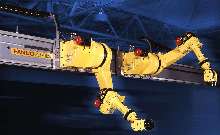 Model R-2000iA/200T overhead, 6-axis robot, suited for material handling applications, offers 200 kg payload capacity and +2.0 m reach. Electric, servo-driven R-2000iA/200T has modular construction and is capable of servicing multiple machines, stations, or operations. Rail mount allows top, front, or side entry into machine. Robot is available in single- or dual-armed configuration and can be mounted underslung or sideslung on rails to provide 5.5 to 41.0 m working range.
---
Original Press Release:

FANUC Robotics Introduces New R-2000iA/200T Toploader Robot at IMTS 2002


CHICAGO, Sept. 4, 2002 -- FANUC Robotics North America, Inc. will demonstrate its new R-2000iA/200T robot at IMTS 2002 at the McCormick Center in Chicago in the East Hall, booth #4202 (shared with GE Fanuc). The new robot is engineered for heavy-duty machine tending applications in the metal cutting, plastics, die casting and other industries where capital equipment utilization is key to customer productivity.

The R-2000iA/200T is the latest addition to FANUC Robotics' extensive material handling product line. It joins the M-6iT, M-16iT, M-16iLT and M-710iT "Toploader" product family -- the industry's first overhead, six-axis, rail-mounted robots. Designed for large to very large material handling applications, the R-2000iA/200T offers the unique advantage of the Toploader design with a 200-kg payload capacity and reach in excess of 2.0 m.

"Our Toploader robots are in demand with manufacturers looking to increase their productivity by improving machine utilization," said Dick Motley, FANUC Robotics engineering manager, material handling systems. "This latest version meets the needs of an increasing number of customers that require more reach and lifting power."

Featuring a modular construction, the electric, servo-driven R-2000iA/200T is engineered for precision, high-speed operation and user-friendly installation. The R-2000iA/200T's six axes of motion (one linear and five rotary) result in a "mobile" robot capable of servicing multiple machines, stations or operations. The rail mount allows top, front or side entry into a machine and provides a usable work envelope far superior to pedestal robots or conventional gantries.

In addition, the overhead mount allows a full range of motion for post-extraction, value-added operations such as trimming, washing, deburring, palletizing, labeling or packing. It also reduces floor space and ceiling height requirements (compared to gantry robots), and keeps the front of the machine clear for changeover, maintenance and service. The robot is available in a single- or dual-armed configuration and can be mounted "underslung" or "sideslung" on a rail providing a 5.5 to 41.0 m working range.

"For manufacturers currently using gantry robots to perform large machine tending operations that require post-processing, there is no question that the new R-2000iA/200T robot is a much better value," said Motley.

At the show, the new R-2000iA/200T will demonstrate a heavy-payload material handling process. The process includes de-palletizing and handling two 40 kg, inline-6, aluminum engine blocks. Using a simulated horizontal-spindle machine center, the robot will load and unload the engine blocks and manipulate them in front of a FANUC F-200iB flexiped robot.

The R-2000iA/200T and F-200iB robots will simulate deflashing of the rough-cast blocks and deburring of the finished, machined blocks. During the machine load/unload cycle, the R-2000iA/200T robot will demonstrate its dexterity by simultaneously moving both blocks through a series of complex motions as it exchanges a finished block for a raw block inside the machine center. After completing each cycle, the robot will palletize the engine blocks and then repeat the entire cycle.

R-200iA/200T Key Benefits

o Combines the advantages of a linear gantry and a six-axis, articulated FANUC robot. This saves floor space and provides more dexterity, reliability and easier maintenance than a gantry robot.
o Services multiple vertical and/or horizontal machines.
o Easily adapts to existing plant layouts.
o Stationary outer arm with simplified hose and cable dress-out prolongs the robot's service life.
o Improves machine productivity as much as 30 percent.
o Reduces capital and maintenance costs by eliminating the need for complex material handling peripherals.
o Easy installation minimizes startup time and expense.
o Balances asynchronous processes.
o Performs value-added operations.

FANUC Robotics North America, Inc. designs, engineers and manufactures innovative robots and robotic systems for a wide range of industries and applications. After 20 years of success, FANUC Robotics maintains its position as the leading robotics company in North America. A subsidiary of FANUC Ltd. in Japan, the company has facilities in Chicago; Los Angeles; Charlotte, N.C; Cincinnati and Toledo, Ohio; Toronto; Montreal; Mexico City; Aguascalientes, Mexico; and Sao Paulo, Brazil. FANUC Robotics can be found on the Internet at www.fanucrobotics.com or by calling 800-47-ROBOT.


Related