Top-Selling Olympia i2 Bath Faucet Offers Premium Design and Quality at Builder-Grade Prices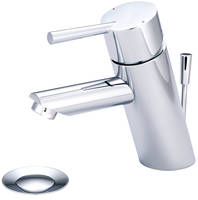 Commerce, CA – The Olympia i2 lavatory faucet has a sophisticated contemporary style for the modern residential bath. The combination of factory-tested durability, easy installation and residential lifetime warranty has made the i2 line very popular with builders. Homeowners appreciate the modern minimalist style and reliable performance. A slim single handle makes it easy to adjust water temperature and pressure, while the latest low-flow technology ensures that the i2 faucet meets WaterSense® criteria.
"The Olympia i2 was our fastest-growing builder-grade faucet in 2016," said Nick Eleftheriou, CEO of Pioneer Industries. "Typically, this level of quality and reliability is available only at premium prices. The i2 delivers premium quality and style at a builder-grade price point."
Olympia i2 lavatory faucet highlights include:
• 1.5 GPM flow rate
• Meets WaterSense® and CALGreen criteria
• ADA compliant
• Ceramic disk cartridge
• Available in polished chrome and PVD brushed nickel
Olympia's i2 Series also includes a pull-down kitchen faucet and single handle tub/shower trim set.
Olympia is part of the Pioneer Industries family of brands.
Media Contact Company:
Helen Berlin
Director of Marketing
323.888.8873
About Pioneer Industries
Pioneer Industries is a manufacturer of premium residential and commercial faucets and other plumbing fixtures. The Pioneer Industries family of brands includes: Pioneer, Olympia and Central Brass Company. For more information on Pioneer, please call 800.321.8630, visit www.pioneerind.com or email: generalinfo@pioneerind.com.
Related