Top-Mount Cooling Units protect electronics from moisture.
Press Release Summary: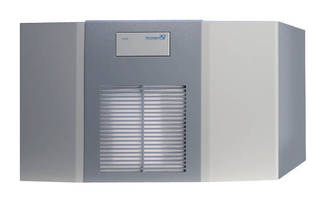 To protect electronics from moisture damage, DTT Series top-mount cooling units include condensate management system. System has cold internal cooling circuit above warm external circuit to prevent large temperature differences between cooling unit and enclosure. Condensate at top of unit is routed to active integrated condensate evaporator, while fans create air channels to route cold air to bottom of enclosure. Units are available in 3 sizes from 1,200-14,000 BTU/hr.
---
Original Press Release:

Pfannenberg Introduces New DTT Series Top Mount Cooling Units



Patented Condensate Management System Protects Electronics from Moisture Damage

Buffalo, NY (September 9, 2009) - Pfannenberg, a worldwide leader in thermal management and signaling technology, has introduced the new DTT Series top mount cooling units. Units feature patented condensate technology which protects electronics housed in enclosures from exposure to moisture and are available in three sizes with performance ranges from 1,200 to 14,000 Btu/h, for a total of 6 new models. The small size and condensate protection make the DTT Series ideal for installation where space is at a premium or enclosures are built in a row, such as narrow production lines.

The innovative Condensate Management System was designed with several features which safely route or completely prevent the formation of condensation, thus protecting the electronics from damage. Unlike other models, the cold internal cooling circuit is located above the warm external circuit. This prevents large temperature differences from occurring between the surfaces of the cooling unit and enclosure - eliminating the possibility of condensate forming on the ceiling of the enclosure and dripping down onto valuable electronics. Condensate instead forms at the top of the unit and is routed to an active integrated condensate evaporator, standard to all Pfannenberg units, which uses a heating element to evaporate condensate. This also prevents the need for a vessel to hold stagnate condensate, and the time and manpower to regularly empty it. Also in this design, the evaporator and the cold air passage are naturally insulated from the heated are of the unit, preventing condensation. Lastly, the DTT eliminates the need for an air routing duct by using high performance fans to create special air channels and the resulting increase in air speed to ensure cold air is routed to the bottom of the enclosure, aiding natural convection.

The new DTT models also offer ease of installation and service. Tool-free installation (with the optional quick-mount frame) and easy access for filter or fuse replacement means no downtime of machines and greater cost savings. DTT models are environmentally friendly providing an estimated 20% energy efficiency improvement due to the streamlined design and use of more efficient components, as well as main parts constructed of recyclable material.

Pfannenberg's Lancaster, New York location engineers and produces many different cooling unit models. By keeping electronics in enclosures from overheating, Pfannenberg provides an invaluable service to companies, helping to keep their machinery and operations consistently running. By developing and producing products which are designed to save energy and other resources, Pfannenberg operates by their business philosophy - "Safety for man, machine and the environment."

About the Pfannenberg Group

The Pfannenberg Group is an international manufacturing company based in Hamburg, Germany with branches, production sites and agents in 44 countries around the world. The Pfannenberg Group collectively manufactures industrial thermal management products, visual and audible alarm systems, and art illumination products. Some of the Pfannenberg Group's products can be found illuminating the Eiffel Tower in Paris, France and the Gallery of Contemporary Art in Hamburg, Germany.

Pfannenberg Incorporated's North American engineering and manufacturing facility is located near Buffalo, New York and specializes in engineering and production of products which provide thermal management of industrial electrical enclosures as well as signaling technology. These products include: filterfans, cooling units, heaters, air/water heat exchangers, chillers, hydrostats and thermostats as well as alarm, warning and indicator visual and audible signal devices.

More from Cleaning Products & Equipment