Top Fill Machine helps protect small and medium-sized parcels.
Press Release Summary: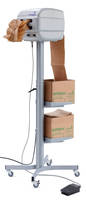 At max speed of 130 fpm, 13 x 13 x 15 in. PAPERplus® Papillon transforms two 8 in. wide layers of paper into protective pads for insertion between products to be shipped to prevent shifting and damage. Operating modes include Automatic, On-Demand, and Foot, and multiple positions facilitate integration into existing Top Fill packaging processes: Floor, Table Top and Table Stand. Stand-alone unit can also be used with silo and conveying systems.
---
Original Press Release:

PAPERplus® Papillon to Protect Small and Medium-Sized Parcels



Storopack is a specialist in the field of protective packaging. Its product portfolio encompasses both customized and flexible packaging systems and their integration into customer packaging processes. The services provided by the internationally active company group based in Metzingen (Germany) are performed by the two divisions Molding and Packaging.



The Packaging Division offers flexible protective packaging systems encompassing air cushions (AIRplus®), paper pads (PAPERplus®), PU-foam-in-place packaging systems (FOAMplus®) and Loose Fill (PELASPAN® and PELASPAN® BIO) packaging materials. It supplies demand-driven equipment solutions covering everything from single workstations through to the design and implementation of packaging lines integrated into a company's intralogistics and equipped with manual, semi- and fully automated infeed packaging systems. Specialized application engineers of Storopack ensure that the entire work flow takes place in keeping with economic and ergonomic principles (working comfort) in order to constantly improve the customers' protective packaging process. The Packaging Division is represented by locations in North America, South America, Europe and Asia. The products are available through dealers in over 40 countries.

A new Top Fill solution from Storopack



Cincinnati – Storopack, a manufacturer of protective packaging with international headquarters in Metzingen, is introducing a new machine that creates padding to protect small and medium-sized parcels: PAPERplus® Papillon. The machine transforms two 20 cm wide (8") layers of paper into protective pads. These can then be inserted between products to be shipped, preventing them from shifting during transportation and protecting them from damage. The target groups for PAPERplus® Papillon are the e-commerce, cosmetic and pharmaceutical markets, along with companies that send lightweight small and medium-sized packages.



The machine is extremely versatile and features three different operating modes: Automatic, On-Demand and Foot. Multiple positions allow for easy integration into existing Top Fill packaging processes: Floor, Table Top and Table Stand. The machine will generally be used as a "stand-alone" unit, but it can also be used in conjunction with silo and conveying systems to serve multiple packing stations.



The unique shape of the pad is patented. The pads are lightweight and offer good spring effect. They can either be used for filling voids or for wrapping shipping goods. They adjust quickly to the products in the package, therefore ensuring reliable protection of the goods. Moreover, the pads offer a pleasant unboxing experience to the end-customer.



The machine is compact and lightweight and can easily be carried. It measures 330 mm (L) x 340 mm (W) x 370 mm (H) (13" x 13" x 15") and its extremely small footprint allows smooth and simple integration. The machine is easy to operate and dispenses the pads directly into the carton therefore contributing to increased productivity.



The machine's maximum speed is 40m/min (130'/min). Plug & Play functionality makes it exceptionally user-friendly. It can be used with voltages of either 110 or 230 V at a frequency of 50/60 Hz. The machine weighs 15 kg (33 lbs) without paper. Further information is available at www.storopack.us.





Storopack Cincinnati

Steve Sobel

4758 Devitt Drive

Cincinnati, OH 45246 USA

Phone 1 (513) 8740314

Fax 1 (513) 8744 672



[email protected]



www.storopack.us



Headquarters:

Storopack

Hans Reichenecker GmbH

Untere Rietstrasse 30

72555 Metzingen

Germany