Tooth Clutch delivers high torque in compact package.
Press Release Summary: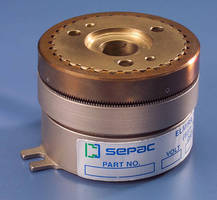 Able to operate dry or in oil, 2.07–6.18 in. long Stationary Field Tooth Clutch (SFTC) Series has bearing-supported design. Positive engagement, < 1 ° backlash, static torque from 40–5,200 lb-ft, and max speed from 1,400–3,500 rpm enable diverse application. Held stationary via anti-rotation screw or post anchored to provided hole, 3.16–10.65 in. dia magnet body is typically installed on motor or gearbox shaft with option for hub, coupling, gear, pulley, or sprocket mounted to armature.
---
Original Press Release:
Stationary Field Tooth Clutch from SEPAC Delivers Higher Torque in a Smaller Package
ELMIRA, NY – SEPAC designed the Stationary Field Tooth Clutch (SFTC Series) to deliver an exceptional torque-to-size ratio with the ability to operate dry or in oil. This model offers a bearing supported design to ease the installation process without relying solely on the customer for bearing support, and is virtually maintenance-free under proper operating conditions.

The SFTC's positive engagement, less than one degree of backlash, high torque-to-size ratio and ease of installation make it ideal for a variety of applications. Additionally, the extraordinary reliability of the SFTC Series makes it a top choice for aerospace and defense actuators, aircraft flight control, military ground systems, weapon systems, elevator/azimuth, robotics, medical equipment/imaging etc.

The magnet body of the SFTC is typically installed on a motor or gearbox shaft with the option for a hub, coupling, gear, pulley or sprocket mounted to the armature. When current is applied to the coil, a magnetic field is created which attracts the armature (sliding on the adapter) towards the rotor. As the teeth engage, torque is transmitted. When the power is turned off, springs between the armature and adapter assist in disengagement. The magnet body of the SFTC is held stationary by the means of an anti-rotation screw or post anchored to a hole provided.

SFTC product highlights include:
• Static torque: 40 to 5200 lb-ft
• Max speed: 1400 to 3500 RPM
• 8 standard sizes available
• Magnet body diameter: 3.16" to 10.65"
• Overall length: 2.07" to 6.18"
• Rotor bore: .50" to 2.75"
• High temperature coil and insulation materials
• Easily modified for corrosive/moist atmosphere and environments
• Custom sizes and torques available

MEDIA CONTACTS:
Company: Craig Harvey | 607.732.2030 | craig.harvey@sepac.com
Agency: Julie Eleftheriou | 952.913.3065 | julie@longrenparks.com

ABOUT SEPAC
SEPAC Inc., in Elmira, NY, is a custom engineering company and manufacturer of motion control products including electromagnetic clutches and brakes. SEPAC provides innovative solutions of the highest quality and reliability to OEMs, distributors and end users around the world. SEPAC's brake and clutch applications range from aerospace and defense to robotics, energy, healthcare and a wide variety of industrial markets. For more information visit www.sepac.com or call 1.800.331.3207.
More from Mechanical Power Transmission