Tooling System has quicker tool setup features.
Press Release Summary: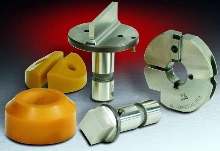 Designed for Trumpf presses, QuickLock(TM) features keyed alignment ring that engages alignment key in punch to facilitate tool alignment. Performed by hand, tool components snap together without resorting to off-line alignment tool setup fixtures. Tool system consists of punches, strippers, and dies, available with max die opening of 1.181 + 0.078 in. or 3.000 + 0.078 in. Both sizes use same alignment ring. Tooling is offered in 11 standard shapes.
---
Original Press Release:

Mate Introduces QuickLock(TM) Tooling System For Trumpf Presses -- Has Quicker Tool Setup Features For Increased Productivity


Anoka, Minnesota: Mate Precision tooling is introducing a new tooling system for Trumpf presses that combines the economy of conventional Trumpf style tooling with features that eliminate the need for alignment fixtures for tooling setup.

Called QuickLock(TM), the new Mate tool system features a keyed alignment ring that engages the alignment key in the punch for fast tool alignment. The press operator performs this simple operation quickly by hand. Tool components snap together without having to resort to off-line, time-consuming alignment tool setup fixtures. This reduces setup time and maximizes machine productivity.

Mate's QuickLock Tooling Is A Full-Featured System

Mate's QuickLock tool system consists of precision designed and manufactured punches, strippers and dies available in two sizes. Size 1 has a maximum die opening of 1.181 + 0.078 (30.00 + 0.80). Size 2 has a maximum die opening of 3.000 + 0.078 (76.20 + 0.80). Both sizes of tool use the same alignment ring, to reduce tooling inventory, increase flexibility, and maximize productivity. Tooling is available in eleven standard shapes including: round, rectangle, oval, square, and triangle. A comprehensive range of special shapes is also available.

The QuickLock punches are made of highly wear-resistant, high-speed steel for precision punching and extended intervals between sharpening. The hardened and ground key, designed for quick and accurate punch alignment, is located on either the shoulder or shank, depending on punch point size. Punches also have a ¼-degree back taper and near polished punch flanks to reduce friction, eliminate galling and extend punch life. For extreme applications, these punches are available with Mate's Maxima® coating or Nitride treatment.

Mate's QuickLock urethane strippers provide positive, on-the-die stripping to eliminate sheet rattle and reduce punching noise. These urethane strippers also protect the part being punched, especially decorative materials that could be damaged by conventional metal strippers. They are available in push-on and screw-on versions, depending on punch point size.

The QuickLock system also features dies made of exceptionally wear-resistant tool steel with optimized heat treatment for perfect balance of wear and toughness. These QuickLock dies also have: double-cut die opening for improved accuracy; uniform clearance radii in the die corners for improved component edge quality; improved die strength with domed relief to evenly distribute punching forces. They also have superior roundness and flatness for improved piece part quality and up to 0.059 (1.50 mm) grind life.

Interested in more information on Mate's QuickLock tooling system, go to mate.com/quicklock

Or call for FREE brochure in USA and Canada, 1-800-328-4492. Outside USA and Canada, call 1-763-421-0230.

Or write to MATE PRECISION TOOLING, 1295 Lund Boulevard, Anoka, Minnesota 55303. USA and Canada, Fax 1-800-541-0285. Outside USA and Canada, Fax 1-763-421-0285. Email: marketing@mate.com.

More from Electronic Components & Devices