Tooling System facilitates hard part turning.
Press Release Summary: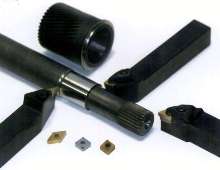 Machining steels and alloys hardened to 45-62 Rc levels, ValEDGE Hard Part Turning System utilizes ceramic and CBN inserts as well as ValTURN(TM) ProGRIP(TM) toolholders. It is provided with T-Land corner break width and angle as well as light hone finish. For vibration-free machining, spring-loaded clamp grips insert in 2 places. Inserts, offered with 35, 55, 60, 80, and 90° geometries, result in projected surface finishes from 32-12 Ra @ 0.003 ipr feed rate.
---
Original Press Release:

Hard Part Turning Made Easier with ValEDGE(TM) Hard Part Tooling System from Valenite


Inserts and toolholders, performance-matched to provide superior results under the toughest machining conditions-hard part turning-deliver enhanced economies and quality

Valenite has introduced the new ValEDGE(TM) Hard Part Turning System-advanced insert materials and the latest toolholder technologies combined and selectively matched to deliver unparalleled performance for machining steels and alloys hardened to 45 - 62 RC levels. The system encompasses Valenite's full range of ceramic and CBN inserts plus the ValTURN(TM) ProGRIP(TM) family of toolholders. These resources are then backed by the knowledge of Valenite's applications service and technical support staff, bringing together the full extent of advantages offered by hardened part turning; stabilized microstructures and mechanical properties of materials; elimination or reduction of time consuming secondary finishing operations; minimized risks of damage from extra handling and additional processing; plus exceptional tolerance and surface finish control from turning operations.

The ValEDGE Hard Part Turning System is designed to provide the necessary options and selections to produce both an economic productivity solution and high performance to meet critical quality demands. The first of the options are found within the multi-cornered coated CBN grade inserts VPC225 for a wide range of roughing and finishing operations with tight tolerance and finish requirements...and two ceramic choices, a VPZ205 coated micro-grain tool for finishing with moderate dimensional and finish needs, and the VPZ215 coated ceramic for roughing operations where tolerance and surfaces are less critical. For all applications and insert selections, Valenite has incorporated both a T-Land corner break width and angle as well as a light hone finish based on extensive field testing and feed back, and applied based on operational needs of standard hard turning, increased edge chip resistance, and for extreme applications.

For example, a typical CBN insert that will be used for light duty cuts will have a 0.005X15 T-Land and hone finish...a ceramic insert requiring increased edge strength for heavier duty loads may have a T-Land of 0.008X20 with a light hone finish. Cutting loads, finishes and turning needs are also met through an extensive array of approximately 110 available insert styles, sizes and geometries. Included among the choices are 35, 55, 60, 80, and 90-degree geometries with a variety of depths of cut, T-Land sizes, and projected surface finishes, ranging from 32 to 12 Ra (micro-inch) at 0.003 ipr feed rate.

Coordinated with the ValEDGE advanced material inserts are the new group of ProGRIP(TM) toolholders recently introduced by Valenite to simplify and streamline tool-holding needs. The ProGRIP system utilizes fewer spare parts than conventional design units, makes indexing and changeouts easier and up to 40% faster, and is versatile in that holders, clamps and shims can accommodate most style inserts, including carbide, CBN and ceramic. Particularly important for the Hard Part Turning aspect of the system, is a new spring-loaded clamp design that securely grips the insert in two directions...downward and to the back pocket wall...enhancing rigidity for vibration-free machining, and establishing a more reliable, consistent clamping accuracy for precise tolerance work and critical surface finishes.

The ProGRIP line of toolholders extends to over 98 different insert and lead angle shank styles to assure a holder is available for virtually all hard part turning applications. Combined with the selection of ValEDGE inserts, a holder and cutting tool is available from Valenite to meet most any hardened part turning application.

As with all Valenite products, the ValEDGE Hard Part Turning System is backed by the company's top-rated Customer Service offering assistance for ordering, pricing and delivery scheduling, plus a technical support staff that continuously provides updated product and application data, and recommendations to optimize metal cutting productivity.

Valenite, headquartered in Madison Heights, Michigan with sales and service operations worldwide, is one of the largest suppliers of industrial cutting tools in the world. The company offers a complete line of standard and special indexable-insert turning, milling, grooving, threading, boring and drilling products to a variety of industries. Its product line also includes the VALCOOL® line of cutting fluids. In addition, special high-production tooling for custom machining systems is produced under the MODCO® name and a full range of inline, process and bench gaging systems is produced under the GAGING Systems name.

More from Machinery & Machining Tools