Tool Trolley delivers compressed air to tools on shop floor.
Press Release Summary: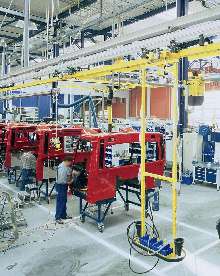 W4-airsolution eliminates undesirable spring forces, does not reduce travel or available work station length, and incorporates main air supply line via integrated 2 ½ in. pipe. Pre-installed at 6 ft intervals, ½ in. ball valves are provided for tapping air and have outlets connected to trolleys with polyurethane hose. Hose is encapsulated in plastic energy guiding chain, which is internally guided within aluminum profile.
---
Original Press Release:

Wampfler Handling Systems Innovative Product Line


The efficient supply of compressed supply to tools on assembly lines is not as easy as one would think. While small products can be assembled with tool-movements limited to an area of 2 to 3 square feet, larger products such as appliances, cars or even earth moving equipment require workers to move around the product during assembly. In some cases, the worker is also required to walk alongside the product as it moves along an assembly belt.

Tools which are connected by spiral hoses to static feeding points require a central shelf or tray for storage. Therefore, workers are forced to move back to the shelf to change or replace bits or sockets, or to exchange tools. The workplace may also include "dragged" hoses which increase tripping hazards, and therefore, employee safety and workplace efficiency.

Tool-rails with moving trolleys parallel to the assembly belts increase efficiency dramatically. Tools are suspended from a spring balancer or retractor which is then connected to the trolley. The trolley can be easily shifted to the exact required location along a workstation length of up to 60 feet, allowing the worker mobility along the assembly line. Furthermore, as the mobile trolley can accommodate more than one tool, operators can exchange tools very quickly.

Typically, the air connection between the static air feed-in point and the moving trolley is completed by festooned hoses. Where festooned hoses are used, as the hose trolleys run in the same rail as the tool trolley, for hose storage, the travel length is reduced by 10 to 15%. The alternative is the use of spiral hoses which are guided on a steel wire parallel to the tool rail. Where spiral hoses are used, the travel length is also reduced. Furthermore, spring forces generated by the spiral hoses require that trolleys be fitted with a brake to stay in the required position.

Such air connections, whether using festooned or spiral hoses, suffer from significant pressure drop within the system and can necessitate additional air pipes and/or an increase to system pressure.

Wampfler's new product "W4-airsolution" fully eliminates undesirable spring forces, does not reduce travel or available work station length, and incorporates the main air supply line via an integrated 2 ½" pipe, significantly reducing air pressure loss.

Both the tool rail and air supply line are combined in a single aluminum extrusion, the integrated air pipe can be fed at one or both ends of the system and ½" ball valves for tapping the air are pre-installed at 6ft intervals. The ball valve outlets are connected to the trolleys with a polyurethane hose. The hose is encapsulated in a plastic energy guiding chain, which is internally guided within the aluminum profile. This innovative arrangement allows for very short hoses (i.e. no spiraling required) and therefore, results in very high efficiency (as pressure drop increases over length).

The system is modular in design and as all parts are pre-fabricated, installation is simple and fast. Therefore, assembly can be refurbished and returned to production in the shortest possible time frame.

Application:
Compressed air supply and electric supply for feed back tools on a truck cabin assembly line. Two trolleys need to be independently mobile over the full assembly line length.

	Number of assembly lines: 		2 Lines

      -	Length of each line: 			86 feet

      -	Amount of Trolleys per line: 		2


Customer guidelines:
Two tools with control units need to be shared on 8 workstations without interfering with existing floor mounted equipment.

Tools & Control unit supplier guideline:
Control unit needs to be supplied with air continuously; air flow must not be interrupted while the trolley is moving.

Wampfler Solution:
W4-airsolution system with two trolleys, each tool trolley equipped with a tool carrier frame. Feed back tools can be stored on the tool carrier, control unit can be attached to the carrier frame.

System equipped with ½" air hose and 5 conductor 14 AWG cable.

Installation time on site:
2 installers, each 8 hours (16 total man hours) for two (2) assembly lines (overall 172 ft), including connection to the existing compressed air and to the electrical supply.

More from Packaging Products & Equipment