Tool System taps threaded holes in sheet metal.
Press Release Summary: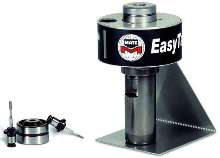 Mate EasyTap(TM) produces precisely located threaded holes, with repeatable quality, in CNC thick turret punch presses. Threaded holes are produced in pre-punched holes or in extruded holes located on sheet. Features include automatic lubrication system, pre-pierce hole miss protection, and push button length adjustment. Tooling produces full range of threaded hole diameters in materials including stainless steel, mild steel, and aluminum.
---
Original Press Release:
Mate Introduces EasyTap(TM) Tooling - Unique New Tool System for Tapping Threads In Sheetmetal Using Thick Turret Punch Presses
Anoka, Minnesota: Mate Precision Tooling leads the punching industry with an all-new tool system designed to produce threaded holes in all types of sheet metal in thick turret punch presses. Called Mate EasyTap(TM), this unique tool system extends the punching capabilities of today's CNC punch presses by producing precisely located threaded holes at high speed, automatically and with repeatable quality. Because Mate EasyTap produces threaded holes on the punch press, there is no need for secondary tapping operations either by hand or with adjacent machines. The threaded holes are produced in pre-punched holes or in extruded holes located on the sheet. Mate EasyTap tooling is designed to operate in thick turret presses equipped with auto index stations, programmable ram depth capability, and suitable software. The thread tapping operation is accomplished automatically through a coordinated rotation of the turret press auto index station and the ram stroke. The tooling will produce a full range of threaded hole diameters in most materials including stainless steel, mild steel, and aluminum. Mate EasyTap tooling is fast to setup and install. It has a design that uses standard taps and Bilz brand collets to produce the threaded holes. A push button length adjustment feature sets the tap length. Additional important Mate EasyTap features include: automatic lubrication system that dispenses a pre-set amount of lubrication to the tap point with each tapping cycle; built-in lubrication level sight gauge; pre-pierce hole "miss protection" prevents tool and part damage in the event of the absence of a pre-pierced hole; lower tool assembly with integral ball bearings prevents under-sheet marking; precision machined guides made from hardened tool steel for accurate, long-life operation; supplied with compact table-top setup and storage stand to protect tooling and make setup easy. According to Frank Baeumler, Vice President Marketing for Mate Precision Tooling, Mate EasyTap is the company's most significant new application tooling design because it adds broad versatility to existing turret press capabilities with only nominal tool investment. "Mate EasyTap tooling system gives the product designer a new option for more cost-effective manufacturability," Baeumler reported. "This tool totally eliminates the need for secondary tapping operations. Sheets requiring integral threaded holes can have these holes produced on the punch press with all the CNC accuracy of the press. Since this is a tool, it can be installed into the press when the job requires taps, and then can be removed from the press when the station is needed for other punching requirements. The resulting taps have extra holding strength when fastening components since the parts are assembled directly to one another." Mate EasyTap is an ideal addition to Mate's other application specific tooling for producing hinges, bends, interlocking components and custom markings, to name just a few. All of these features can be fabricated on a single punch press automatically with high speed and repeatable quality when tooled with Mate. For a FREE Mate EasyTap brochure, call 1-800-328-4492. See at mate.com/easytap Email: marketing@mate.com Or write to MATE PRECISION TOOLING, 1295 Lund Boulevard, Anoka, Minnesota 55303. USA and Canada, Fax 1-800-541-0285. Outside USA and Canada, call 1-763-421-0230 Fax 1-763-421-0285.
More from Material Handling & Storage