Tool Recognition System uses laser to detect broken tools.
Press Release Summary: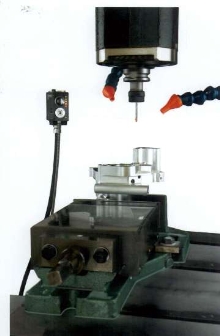 Suited for high-speed detection in real machining conditions, System TRS1 uses Tool Recognition Technology to distinguish intact tools from broken tools including drills, taps, reamers, and end mills. Laser precision makes it effective with tools down to .019 in. dia. With operating range of 12-79 in. system can be mounted outside working envelope, and is suited for range of CNC machines, from large machining centers to small drilling systems.
---
Original Press Release:

New Tool Recognition Technology Uses Laser to Detect Broken Tools As Small As 0.019" (0.5 mm) Diameter, Typically in One Second


Designed for high-speed, reliability and versatility, TRS1 Tool Recognition System provides easy-to-install, affordable, in-cycle solution to automated detection of broken tools

July 2005 - Renishaw introduces a breakthrough in affordable laser-based broken tool detection with the new TRS1 Tool Recognition System. Created for high speed detection in real machining conditions, the TRS1 uses proprietary Tool Recognition technology to distinguish "good" intact tools from "bad" broken tools. The system provides an economical, reliable solution to automated checking of solid profile cutting tools, including drills, taps, reamers and end mills. Laser precision makes it especially effective with tiny, easily broken tools down to .019" (0.5 mm) diameter.

With the tool spinning, Tool Recognition electronics monitor light reflected from the tool. Good tools present a regular light pattern and are passed, while bad tools present random or no light pattern raising an alarm. The recognition process is fast, usually taking about one second. A flexible setup process allows a user-defined broken tool detection point to be established within the machine's envelope. Detection is performed when a rotating tool reaches this point.

Compact and versatile, the TRS1 features a single head just 1.5" wide x 2.87" deep x 3.27" higher (38 x 73 x 83 mm) that combines both send and receive functions. The single-head design allows simple integration - no need for special alignment hardware, complex mounting brackets, or software-based calibration and alignment cycles.

TRS fits a wide range of CNC machines from large machining centers to small drilling systems. Generous operating range - 12" to 79" (300 mm to 2m) - allows the TRS1 to be mounted outside the working envelope, safe from collision, while saving valuable table space. It can be mounted to any rigid surface of the machine. Positioning of the TRS1 relative to the tool is not critical and does not require accurate alignment with the machine's axes.

A five-tiered LED enables fast set-up and provides a visual indication of signal strength. Macro-based software is supplied with each system supporting a wide range of controllers. No M codes are required for operation.

The TRS1 is supplied with a filter regulator assembly that delivers a constant supply of clean dry air protecting the laser against contaminants. This proven protection method was adapted from Renishaw's Non-Contact (NC) family of laser toolsetters.

For more information on the TRS1 Tool Recognition System or Renishaw's NC family of non-contact laser toolsetters, contact Dave Bozich, Business Manager - Machine Tool Products, Renishaw Inc. Phone 847-286-9953. Fax 847-286-9974. Email: dave.bozich@renishaw.com.

Inquiries should be directed to: Susan Wilm
Marketing Assistant Renishaw Inc. 5277 Trillium Blvd. Hoffman Estates IL 60192

More from Electronic Components & Devices