Tool-Free Terminations handle medium voltage cables.
Press Release Summary: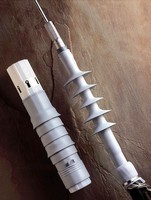 Tested to IEEE 48-1996, RAYCHEM TFT-E elastomeric terminations are designed for 15, 25, and 35 kV cold shrink terminations and feature cold applied material technology. Elastomeric body promotes shelf life, cold temperature recovery, and UV stability. Stress control method employs metal oxide matrix technology, while pre-lubricated, crush resistant holdout facilitates installation. Offered in 3 sizes, products feature self-amalgamating moisture sealing.
---
Original Press Release:

New Termination Method for Medium Voltage Cables



HARRISBURG, Pa. - Jan. 13, 2006 - Tyco Electronics recently introduced an improved version of RAYCHEM TFT-E tool free terminations. TFT-E elastomeric medium voltage terminations are designed for 15kV, 25kV and 35kV cold shrink terminations and feature the newest development in cold applied material technology. With this new material technology, electrical utility engineers can expect an improvement in tracking erosion test performance (TERT) by up to three times over the previous generation TFT-E termination material. Furthermore, the elastomeric body provides improved shelf life and cold temperature recovery along with outstanding UV stability, all adding to the product's useful life.

By using the improved TFT-E termination, utilities will also gain the benefit of an advanced stress control method employing metal oxide matrix technology to provide superior electrical performance. A pre-lubricated, crush resistant holdout (or core) simplifies installation.

In addition to the rugged elastomeric housing, positively positioned stress controls and self-amalgamating moisture sealing features of TFT-E terminations, they also provide maintenance-free, performance even in highly contaminated areas,

The product is tested to IEEE 48-1996 and is available in three sizes which accept a wide range of cable sizes.

For more information on the TFT-E termination, contact Tyco Electronics' technical support center at 1-800-327-6996 or send an e-mail to newproducts@tycoelectronics.com

About Tyco Electronics
Tyco Electronics, a business segment of Tyco International Ltd., is the world's largest passive electronic components manufacturer; a leader in cutting-edge wireless components, complete power systems, and premise wiring components and systems; and a provider of critical communications systems to the Land Mobile Radio industry. Tyco Electronics provides advanced technology products from over forty well-known and respected brands, including Agastat, Alcoswitch, AMP, AMP NETCONNECT, Buchanan, CII, CoEv, Critchley, Elcon, Elo TouchSystems, M/A-COM, Madison Cable, OEG, Potter & Brumfield, Raychem, Schrack and Simel. For more information, visit www.tycoelectronics.com

RAYCHEM and TYCO are trademarks.
Other trademarks are the property of their respective owners.

Paul Lavenberg
Global Communication
Tyco Electronics
717-592-2409 P
717-592-6146 F

US Mail:
Tyco Electronics
PO Box 3608
MS 38-41
Harrisburg, PA 17105

Freight & Express Shipments:
Tyco Electronics
2800 Fulling Mill Road
Middletown, PA 17057

More from Chemicals & Gases