Tool Changers for CNC Machine Tools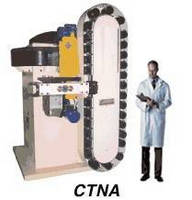 Our extensive range of Tool Changers and Tool Storage Systems offers machine tool designers, builders and retro-fitters a simple, yet dependable and cost effective solution to accommodate multiple tooling requirements for a wide variety of CNC machine tools.



With over 25 years of experience and technical know-how, our extensive range of high speed mechanical cam driven tool exchangers and tool storage systems have evolved.



From the original range of fast cycling CTM and CTA series to the latest "Ultra High Speed" HTC units, our comprehensive product range offers a tool exchanger solution to accommodate most any tool management requirements.



Only a cam driven tool exchanger system can offer the unique and desirable features such as simple control requirements, optimized and pre-engineered acceleration and deceleration rates, longevity, low maintenance and consistently repetitive performance.



Whether your application is for an exchanger system that will utilize CAT, ISO or HSK tool holders, on a horizontal or vertical spindle Machining Center, in a Flexible Manufacturing Cell, Transfer Line, Turning or Grinding Machines, we have a proven track record of successful installations that we can share with you.



More from Machinery & Machining Tools