Tool Changer provides internal routing for hollow-wrist robots.
Press Release Summary: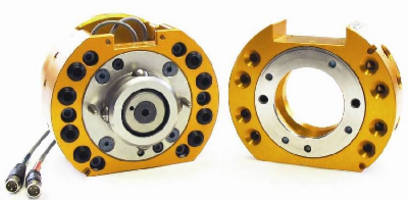 Able to handle 55 lb payload, QC-21HM Master-Side Tool Changer allows for routing of air and electrical lines directly through center. Unit includes fail-safe locking mechanism, lock/unlock air supply, and lock/unlock sensing method, as well as 8 pass-through air connections. With all locking parts made of Rc58 stainless steel, tool changer provides X, Y, Z positional repeatability of 0.0006 in. at rated load at 1 million cycles.
---
Original Press Release:

QC-21HM Tool Changer Provides Internal Routing of Utilities For Clear and Safe Operation with Hollow-Wrist Robots



The new QC-21HM Tool Changer, a QC-21 Master that allows for routing air and electrical lines directly through its center, was recently developed by ATI Industrial Automation, Apex, N.C. to satisfy the needs of industrial hollow-wrist robots. The new Tool Changer's internal routing of utilities provides direct compatibility with many hollow-wrist robots and results in a cleaner more direct connection. The QC-21HM is directly compatible with the standard QC-21 Tool assemblies and has Lock and Unlock sensing integrated into its design for safe Coupling and Uncoupling. Additional Hollow-Wrist Tool Changer models are currently under development and will be available as a standard option.

Many of today's standard industrial automation robots require large complex cable and hose bundles around the outside of the robot arm. Routing the bundles properly around moving parts and robot axes, away from potential environmental threats such as weld debris, was a problem. Robot manufacturers developed hollow-wrist robots where the dress package is routed through the center of the wrist virtually eliminating application concerns. Routing all cables and hoses internally shields the dress package from mechanical influences and prevents undesirable whiplash motion. Also, routing gripper cables through the hollow wrist improves access into tight spaces and reduces complications associated with broken hoses and cables.

ATI Robotic Tool Changers provide the flexibility to automatically change end-effectors or other peripheral tooling with accuracy and ease. ATI Tool Changers are designed to function reliably for millions of cycles at rated loads while maintaining extremely high repeatability. A variety of models are available to cover a wide range of applications from very small payloads to extremely heavy payload applications requiring significantly large moment capacity.

QC-21HM Tool Changer Details

The QC-21HM Hollow-Wrist Master-side Tool Changer handles a payload of 55 pounds with higher payloads possible with lower moment rating. Additional features include: patented Fail-Safe locking mechanism to ensure high-moment capacity and strength; a common Lock/Unlock air supply and a Lock/Unlock sensing method; eight (8) pass-through air connections (2 are 1/4" push-connect tube fittings and 6 are 1/8" push-connect tube fittings); Lock and Unlock connections are 1/8" push-connect tube fittings. Metric tube size connections are available and many optional electrical module cables can also be routed through the center.

Also, No-Touch Locking(TM) technology allows up to 3.0 mm (0.12 in) plate separation when locking. Positional repeatability (X, Y and Z) tested at a rated load at one million cycles is 0.015 mm (0.0006 in). All locking parts are made of Rc58 stainless steel and are designed for superior reliability, repeatability and strength.

ATI Industrial Automation just celebrated its 20-year anniversary as a world-leading engineering-based developer of robotic peripheral equipment, including Automatic Tool Changers, Multi-Axis Force/Torque Sensing Systems, Robotic Deburring Tools, Robotic Collision Sensors and Compliance Devices. ATI's engineering department, the largest of its kind for a robotic tooling company, is focused on developing cost-effective, state-of-the-art products and solutions that improve robotic productivity.

For more information about the QC-21HM Hollow-Wrist Master-side Tool Changer and other ATI products, contact ATI Industrial Automation, 1031 Goodworth Drive, Apex, NC 27539, phone 919-772-0115, fax 919-772-8259, www.ati-ia.com.

More from Machinery & Machining Tools