Tool Cart facilitates storage of hand tools.
Press Release Summary: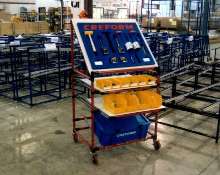 Portable Tool Cart allows storage, management, and employment of hand tools needed to complete specific, repetitive assembly, or maintenance tasks. System allows user to design and build custom application structures by utilizing a range of pipes, joints, and hardware accessories. Assortment of caster styles and wheel diameters are available for various surfaces and mobility requirements. Foam sheeting is provided with cutout compartments for each tool.
---
Original Press Release:
Creform® Tool Cart Structures Put Ergonomics in Assembly
The adaptive attributes of the Creform® System are fully demonstrated within an innovative concept for the storage, management and employment of hand tools needed to complete specific, repetitive assembly or maintenance tasks. The portable tool carts, a concept developed by the Creform Corporation (Greer, SC), are an ideal method to present tools for quick, orderly identification, easy retrieval, convenient return, and effective visual management. Because the Creform System allows users to design and build custom application structures, each cart provides ergonomics optimized to the individual and the process. For the organization, the carts contribute to leaner operations and continuous improvement by supporting the Five S philosophy...straighten, standardize, shine, sweep and sustain...that helps enhance performance. First, the Creform System consists of a series of pipes, joints and hardware accessories that can be easily be designed and built by users, operators and assemblers-the people who know the job best, into a host of material handling and work assist structures. Since pipe sections can be cut to any length, these tool carts may be right sized for the application and the associate though size considerations should take into account maneuverability and accessibility since the units are portable. An assortment of caster styles and wheel diameters are available for various surfaces and mobility requirements. Stationary or sliding shelving and flat surfaces, using plastics, wood or composition boards, may be incorporated into the tool cart structure to accommodate the storage of tools, supplies, assembly components, or subassemblies. But the most notable feature of the tool carts is the tool presentation. Typically, it is recommended that the carts be constructed with the presentation plane set at an angle which makes each piece readily visible and identifiable. The addition of a piece of foam sheeting, with cutout compartments for each tool, makes storage and securing tools even easier. The foam can easily be cut with a hand utility blade, a jigsaw, or rotary style power tool, while large quantities for many shadow boards can be fabricated using water jet systems. The foam cutouts help protect hands from injuries when tools are stored or retrieved and protect tools with cutting edges by keeping them separated. One primary benefit of the shadow board technique is that an empty pocket provides a quick visual inventory method for tools that are missing or misplaced. Tools must be accounted for in order to have a safe and efficient workplace and to avoid potential product damage. A basic use for a Creform portable tool cart is for use in building Creform structures. The tool cart can stow a pipe cutter, deburring tools and knife, open end and hex wrenches, tape measure, mallet, file, adhesives, drill, screwdriver and fasteners all of which may be needed to construct an array of structures. Representative examples of Creform-built structures among the application possibilities include push carts and trailers; flow racks; roller conveyors; hinged shelf carts; tilting racks and tables; height adjustable work tables and workstations along with the portable tool cribs and storage units. Static discharge-rated ESD components are available for handling sensitive electronics. The Creform System can also implement economical and easy-to-install AGC's (Automated Guided Cart) systems for efficient automated material delivery units. The portable tool carts, along with the many other structures possible are fundamentals to being SMART...Simplicity to create custom structures for specific jobs-the Mobility of lightweight and maneuverable units-Adjustable to refine for optimum ergonomics-Reusable components for economical material handling solutions-and Temporary, thanks to low investment levels, that encourage continuous improvement programs. Visit www.creform.com for additional information regarding Creform Corporation and its products.
More from Computer Hardware & Peripherals