Toilet incorporates pressure-assist operating system.
Press Release Summary: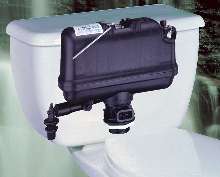 FLUSHMATE IV, with quiet operation, 4.0 liter, pressure-assist operating system, is suited for tank-type toilets and generates almost 3x pressure of gravity units at 70 gpm. Product provides push instead of pull, keeping pressure behind waste and forcing it through trapway in 1 flush. Bowl design contributes to low level of sound during flush. Features include 10 x 10 in. water surface and vigorous flushing action.
---
Original Press Release:
Sloan FLUSHMATE® Unveils FLUSHMATE IV, A Quietly Superior 4.0-Liter Pressure-Assist Operating System

Franklin Park, IL - The FLUSHMATE(R) Division of Sloan Valve Company has developed a new, quiet operation 4.0-liter pressure-assist operating system for tank-type toilets that uses 45 percent less water than conventional 1.6 gpf technologies.

The FLUSHMATE IV pressure-assist 4.0-liter operating system for Maximum Performance Fixtures (MPF)TM generates almost three times the pressure of gravity units at 70 gallons per minute. For installation into tanks with advanced design, FLUSHMATE IV provides a "push" instead of a "pull," which keeps pressure behind the waste, forcing it through the trapway in a sigle flush. The specially designed bowls account for the low level of sound during the flush, allowing the FLUSHMATE IV peak noise level to be virtually identical to many low consumption gravity toilets.

FLUSHMATE-equipped toilets install in the same standard area as conventional bowls and FLUSHMATE-equipped toilets also stay cleaner due to a larger-than-normal 10"x10" water surface and vigorous flushing action.

Numerous studies identify toilet flushing to be the single largest indoor use of water, with 40 percent or more of total indoor use attributed to the bathroom. One way to counter high water consumption is to install FLUSHMATE-equipped toilets that consistently conserve water in public housing, apartments, hotels, commercial/industrial locations and in private homes.

The innovative FLUSHMATE operating system uses air pressure from the vessel to complete a flush. As the vessel fills with water, the supply line pressure is used to compress the trapped air, which forces the water into the bowl with a specially designed jet at the entrance of the trapway.

FLUSHMATE Operating Systems are manufactured by Sloan FLUSHMATE, producer of pressurized flushing devices. FLUSHMATE is a division of Sloan Valve Company headquartered in Franklin Park, IL. Sloan has been in operation since 1906, and produces plumbing products for commercial, industrial and institutional markets worldwide.

For more information about Sloan FLUSHMATE, contact Sloan FLUSHMATE Division, 10500 Seymour Avenue, Franklin Park, IL 60131. Phone: 800-580-7141 or visit FLUSHMATE at www.flushmate.com

Send inquiries to: FLUSHMATE, 553 N. North Ct., Suite 110, Palatine, IL 60067 or e-mail to leads@interlinegroup.com
More from Architectural & Civil Engineering Products