Toggle Switches feature IP67-rated, watertight design.
Press Release Summary: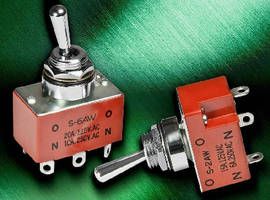 Suited for industrial and outdoor environments, S Series is available with or without locking levers and in many circuit configurations, including SPST, SPDT, DPST, and DPDT, with choice of momentary or maintained circuits. Standard bat-style actuators feature optional splash-proof boot to cover base, guarding against contamination. All 17.5 mm switches are panel mount with 12 mm threaded bushings. Electrical capacities range from 15-20 A at 125 Vac, 6-10 A at 250 Vac, and 15-20 A at 30 Vdc.
---
Original Press Release:

NKK Switches Announces Water Tight IP67 Toggle Switches Rated 15 to 20 AMPS



SCOTTSDALE, Ariz. (August 25, 2009) - NKK Switches, the world's leading designer and manufacturer of innovative electromechanical switches, today announced the availability of the S Series family of IP67-rated water tight toggle switches. The S Series 15A-20A medium capacity toggle switches are designed to meet requirements of industrial and outdoor environments.

Available with or without locking levers, the S Series 17.5mm toggle switches feature many circuit configurations, including SPST, SPDT, DPST and DPDT, with a choice of momentary or maintained circuits. Locking levers can be specified for maintained circuits, providing an excellent choice for designs requiring a rugged safeguard to prevent accidental actuation.

Rated at IP67 of IEC60529 Standards, NKK's Series S1 through S29 give design engineers the ability to incorporate a reliable toggle switch into designs that will be used in a variety of environments where there is likely to be exposure to water and dirt. The standard bat-style actuator models also feature an optional splash-proof boot to cover the base of the actuator for additional sealing ability to guard against dangerous contamination.

All S Series switches feature solder lug terminals and all are panel mount with 12mm threaded bushings, which are brass with chrome plating. The series' mounting design conforms to standard panel cut outs, easing the task of installation.

Electrical capacities range from 15A to 20A at 125 VAC, 6A to 10A at 250 VAC and 15A to 20A at 30 VDC. Both inductive and resistive ratings are included in the datasheet specifications. Mechanical life is rated for 30,000 to 50,000 operations minimum, depending on model, and electrical life is rated at 25,000 operations minimum.

Standard hardware included with each device is a hex nut, lock washer and an O-ring for panel sealing. In addition, engineers have the option of specifying .250" quick connect terminals and ON/OFF inscribed plates.

These devices are ideal for any design requiring human interface via a toggle-style switch in harsh environments, including industrial equipment, heavy machinery, construction equipment, transportation vehicles, aircraft, automotive, outdoor concert and lighting equipment, portable power tools and telecommunications devices.

A leading designer and producer of electromechanical switches, NKK Switches offers one of the industry's most extensive selections of illuminated, process sealed, miniature, specialty, surface mount and programmable switches. NKK manufactures more than 3.5 million toggle, rocker, pushbutton, slide, rotary, DIP rotary, keypad and keylock switches, each of which can be used as the foundation of a customized design. All switches are designed and manufactured to provide the quality and dependability that has made NKK the benchmark for reliability for over half a century.

NKK continues to lead the industry in responding to the needs of the marketplace with innovation, high reliability, customization and a commitment to excellence. The company provides a full suite of customization solutions that include: design, programming, printing and support. Downloadable 3D CAD models of the company's switches are available, allowing design engineers to quickly integrate complex models into their designs at no charge. NKK maintains a complete network of qualified representatives and distributors through the United States, Canada, Central and South America, Europe and Asia.

Engineers who design the human-machine interface for their products rely on the broad product line, specialized design expertise and customer support of NKK Switches. For more information, contact NKK Switches, 7850 E. Gelding Dr., Scottsdale, AZ 85260. Phone: (480) 991-0942. Fax: (480) 998-1435. Visit the NKK Web site at www.nkkswitches.com.

More from Mechanical Components and Assemblies