Toggle and Pushbutton Switches have miniature, SMT design.
Press Release Summary: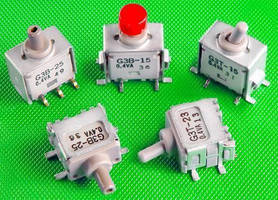 Completely process sealed, G3T toggle and G3B pushbutton switches are available in single- or double-pole versions and incorporate STC (Sliding Twin Crossbar) contact mechanism and self-wiping, gold-plated contacts. Toggle switches can be configured in 5 circuits, including momentary and maintained action, while pushbutton devices are available in momentary circuits. Terminals are epoxy sealed and molded in to lock out contaminants. Electrical rating is 0.4 VA max @ 28 Vac/dc max.
---
Original Press Release:

NKK Switches Announces Ultra-Miniature Surface Mount Toggle and Pushbutton Switches



Miniature size and light weight make these devices ideal for handheld equipment

SCOTTSDALE, Ariz. - NKK Switches, the world's leading designer and manufacturer of innovative electromechanical switches, today announced the availability of the G3T Series and G3B Series of ultra-miniature, process sealed, surface mount toggle and pushbutton switches. These devices' small size and light weight make them ideal for handheld equipment as well as high-density mounting.

Both the G3T and G3B series feature NKK's award winning STC (Sliding Twin Crossbar) contact mechanism. This innovative design guarantees unparalleled logic level switching reliability. The contacts are gold plated and wiped clean with every actuation, providing a smoother, positive detent actuation and increased contact stability.

Both series are also completely process sealed for automated processing techniques, including flux-cleaning procedures. The bushing and housing are constructed of one molded piece and a rubber o-ring surrounds the actuator. In addition, a rubber seal surrounds the base where it fits into the actuator. The terminals are epoxy sealed and molded in to lock out flux, solvents and other contaminants.

These devices are available in single pole or double pole. The G3T toggle switches can be configured in five different circuits including momentary and maintained action, while the G3B pushbutton devices are available in momentary circuits. Design engineers can also specify upright, upright with support bracket or right angle mounts. The series' ultra-miniature size allows for high density mounting.

The heat resistant resin used to construct the housing, base and actuator on the toggle and pushbutton SMT switches allows vapor phase and infrared convection reflow soldering. Gull-wing terminals provide mechanical stability during soldering and simplify solder joint inspection.

The electrical rating for all circuit options is 0.4VA maximum @ 28V AC/DV maximum. They are designed for use in low voltage, low current, logic level applications.

Tape-reel and stick-tube packaging allow rapid automated placement of these devices. Tape-reel packaging meets EIA-481-2 Standard. Partitioned tray packaging is also available from NKK upon request.

NKK continues to lead the industry in responding to the needs of the marketplace with innovation, high reliability, customization and a commitment to excellence. The company provides a full suite of customization solutions that include: design, programming, printing and support. Downloadable 3D CAD models of the company's switches are available, allowing design engineers to quickly integrate complex models into their designs at no charge. NKK maintains a complete network of qualified representatives and distributors through the United States, Canada, Central and South America, Europe and Asia.

Engineers who design the human-machine interface for their products rely on the broad product line, specialized design expertise and customer support of NKK Switches.

More from Test & Measurement