TITAN® V6 Bottom Loading Furnace Fits in Standard Truck or Shipping Container Saving Customers Money and Time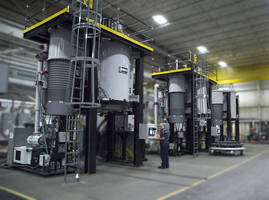 CHERRY VALLEY, IL - Sales for the TITAN® V6 bottom loading furnace are taking off with three orders placed by U.S. customers currently in production and another order just placed by a customer in Japan. The bottom loading V6 TITAN's innovative, modular design fits in a standard truck or shipping container, which is just one of the many ways the TITAN Experience provides a competitive edge for customers saving costs, time and space. All sales have been to customers in the Aerospace industry, continuing Ipsen's long tradition of supplying the Aerospace market with furnaces capable of meeting Nadcap/AMS applicable requirements. These particular TITAN V6s will be used for brazing and stress relieving applications. TITAN V6 models have a hearth gross weight capacity of 6,000 lbs (2,700 kg) and an effective work area of 60" x 60" (1,525 mm x 1,525 mm). Its design minimizes floor space and is an excellent furnace for stress relieving applications that accommodate for large part configurations. The V6 comes with all the benefits of the TITAN Experience - global standard, Ipsen innovation and quality, ease of installation, short delivery time and much more. As the largest manufacturer of furnace and heat treat systems, with more than 60 years of experience, every product Ipsen manufactures is backed by their comprehensive knowledge and expertise, robust engineering capabilities, highly innovative research and development efforts, world-class customer support services and dedication to quality. Superior reliability and high uniformity make the TITAN, and Ipsen, the best choice for hear treatment in the Aerospace industry.
About Ipsen, Inc.
Ipsen, Inc. designs and manufactures thermal processing systems for a wide variety of markets, including Aerospace, Medical, Energy, Chemical and Automotive. With thousands of installed systems worldwide, whether it's innovative titanium knee implants, making cars more efficient, developing new jet engines or going to the moon, Ipsen delivers quality. For more information, visit www.IpsenUSA.com. 
Related