Titan Express Fiber Laser Cutting System features software-controlled geometry alignment.
Press Release Summary: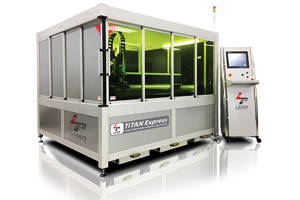 Titan Express Fiber Laser Cutting System comes with drive motion control platform. Unit is suitable for small to mid-size manufactures and is equipped with class 1 laser viewing windows. Product enables user to cut highly reflective metals such as aluminum, stainless steel, mild steel, brass and copper with 1 kW to 2kW fiber laser. Cutting system is integrated with 4 ft x 4 ft table.
---
Original Press Release:
New Laser System Cuts Through Challenges Facing Medium Sized Manufacturing & Fabricating!
Laser Photonics Corporation announced the newest member of the Titan Series of large format fiber laser cutting systems, the Titan Express. The innovative fiber laser cutting system gives small to mid-size manufacturing the agility and responsiveness never before seen in a size that fits a smaller facility and a smaller budget.
The Titan Express is equipped with a high-power, energy efficient fiber laser and an advanced direct drive motion control platform. Comparable to other machines, the Titan Express has the lightest weight design and the fastest, most accurate cutting on the market for comparable systems. Titan Express offers ultra low power consumption allowing for the lowest operating costs among all laser types. The Titan's fully software-controlled geometry alignment eliminates the need for special installation. The system requires no optical system alignment, laser service or laser replacement parts making this system virtually maintenance free. Built for safety and easy operation, Titan Express' oversized class 1 laser viewing windows can be opened for easy loading and unloading of materials onto the 4' x 4' table.
The Titan Express is ideally suited for industries that are cutting highly reflective metals. Aluminum, stainless steel, mild steel, brass and copper can easily be cut with the 1 kW to 2kW fiber laser with precise and intricate cuts – with a clean edge.
"We developed the Titan Express to give small to medium manufacturers a competitive advantage that was once only available in large, very costly machines." Said Fonon Technologies CEO, Dr. Dmitriy Nikitin. "Companies can now focus on innovation and production for their customers."
Laser Photonics and the Titan Express give the cutting edge technology and competitive edge manufacturers need - today.
About Laser Photonics Corporation
Laser Photonics designs laser-based material processing technologies for advanced industrial manufacturing and manufactures state of the art equipment utilizing proprietary technologies. The company products empower manufacturers in the areas of application-specific 3D metal printing (additive manufacturing), and 2D and 3D laser cutting, marking and engraving applications (subtractive manufacturing). Our products and technologies are used today in every sector of any manufacturing industry from food and beverage to medical, aerospace and semiconductor.
More from Electronic Components & Devices