Tire Pressure Monitoring System targets commercial vehicles.
Press Release Summary: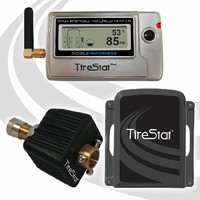 With sensors mounted externally on valve stem, TireStat(TM) allows air input without sensor removal. System is pre-programmed by wheel position, yet can be altered by user. Rechargeable handheld monitor functions as tire gauge, enabling user to monitor tire pressure while adjusting inflation level. In addition to detecting under-inflated, over-inflated, and rapid leaking tires, TireStat(TM) also monitors tire temperature. Sensors operate in all weather conditions within pressure range of 15-150 psi.
---
Original Press Release:

New TireStat(TM) No-Nonsense Commercial-Grade TPMS is Released by Mobile Awareness, LLC



[CLEVELAND, OH - November 3, 2008] - Mobile Awareness, LLC, a provider of leading-edge transportation safety products, today announced TireStat(TM), the next generation of TPMS (Tire Pressure Monitoring & Maintenance System) products geared toward Commercial Trucks, Trailers, Buses, Off-Road, Construction, Utility Vehicles and RV's.

TireStat(TM) is a complete and effective tire pressure monitoring system that provides major benefits such as increased fuel economy, enhanced safety, maximized tire casing life and extended tire wear. The light weight TireStat(TM) sensors are mounted externally on the valve stem allowing air input without sensor removal. This No-Nonsense approach virtually eliminates limitations previously found to prevent the use of TPMS on fleet vehicles, including costly tire maintenance, time consuming installations, lost cap mounted sensors and difficulty in roadside service.

TireStat(TM) is preprogrammed by wheel position for effortless installation, yet can be easily altered by the user. This exclusive design allows customers to optionally program their own warning alert levels by axle position, offering improved management of fuel and tire expense. For fleet owners this provides a faster ROI, simplicity of driver participation and low on-going maintenance since there are no issues due to lost sensors.

"Mobile Awareness recognizes the need for a driver-friendly TPMS solution which is affordable for all types of vehicle safety environments," says Brandon Stotsenburg, Director of Sales & Marketing at Mobile Awareness. "Our latest TireStat(TM) system provides a compromise-free tire maintenance solution for individuals, businesses and commercial fleets."

TireStat(TM) not only detects under-inflated, over-inflated and rapid leaking tires, it also monitors tire temperature. Knowing when a tire exceeds a safe operating temperature, even when the tire pressure appears to be in a normal range, is vitally important to maximize tire life, extend the ability to retread and enhance driver safety.

In addition, the TireStat(TM) exclusive rechargeable Handheld Monitor functions as a portable tire gauge. As a result, the user can monitor actual tire pressure while adjusting each tire's inflation level. All TireStat(TM) systems include an easily mounted transceiver which assures continuous transmission of the wireless signals without the inconvenience of installing multiple antennas.

TireStat(TM) features include an integrated anti-theft locking mechanism for the sensors which are housed in a rugged nylon encasement with a five (5) to seven (7) year battery life. Sensors are designed for harsh environments and operate in all weather conditions within a pressure range of 15 PSI to 150 PSI.

Stotsenburg concludes, "A TPMS system is only effective if it is easy for the driver to use. TireStat(TM) provides the best overall solution for individuals and fleets who want to affordably experience the safety and cost reduction benefits that they have come to expect from Mobile Awareness."

About Mobile Awareness

Cleveland, Ohio based Mobile Awareness, LLC(TM) designs and markets leading-edge, affordable transportation safety products. The company provides integrated accident prevention solutions for commercial transportation professionals with its VisionStat(TM) Wired & Wireless Vehicle Camera Systems, TireStat(TM) Tire Pressure Monitoring Systems (TPMS) and SenseStat(TM) Wired & Wireless Obstacle Detection Sensor Systems. For more information, please contact Mobile Awareness, Toll Free: 866-653-5036 or visit www.MobileAwareness.com

Mobile Awareness...Reducing the Total Cost of Safety(TM)

More from Laboratory and Research Supplies and Equipment