Timing Pulleys feature configurable hub assortment.
Press Release Summary: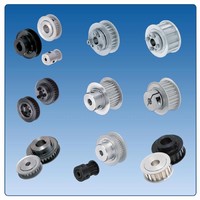 Available in wide variety of materials/sizes, including high-torque versions, timing pulleys suit virtually any shaft hole and flange requirement. Dimensions for shaft hole and overall hub diameter are configurable in increments of 1 mm, while hub shoulder height is configurable in increments of 0.5 mm. Offered in several aluminum grades with clear anodize, electroless nickel plating, or hard anodized surface treatment, 1045 carbon steel and low carbon steel versions are also available.
---
Original Press Release:

MISUMI Introduces Configurable Hub Assortment of Timing Pulleys



Date: April 21, 2008

Schaumburg, IL-MISUMI USA, Inc. announces a new feature on its family of timing pulleys, offered in a wide variety of materials and sizes, including high-torque versions. The unique feature of this new MISUMI line is the configurable hub offered to suit virtually any shaft hole and flange requirement. Dimensions for the shaft hole and overall hub diameter are configurable in increments of 1mm, while the hub shoulder height is configurable in increments of 0.5mm. This development offers engineers many more options in their designs, plus the MISUMI configured part incurs no tooling or minimum order charge.

These new timing pulleys are offered in several aluminum grades with clear anodize, electroless nickel plating or hard anodized surface treatment. 1045 carbon steel and low carbon steel versions are also available with black oxide or electroless nickel plating. This entire MISUMI line of timing pulleys is fully RoHS compliant.

Shaft holes can be specified with round, round with tap or round with key groove hole and tap design. Set screws are supplied when required. Designed with integral flanges, these pulleys are offered by MISUMI in dozens of shapes and tooth counts, with compatible belts available from the manufacturer, as well.

Additional alterations to the basic designs may also be specified, including set screw angle, machining step on the flange part, detached or one-side only attached flange as well as a lower cut flange, also configurable in 0.5mm increments (aluminum pulleys only).

Available timing pulley belt calculation software is offered at the MISUMI website to allow a designer to choose the best belt style for any application, based on selectable criteria.

For full specifications and pricing on these new configurable hub style timing pulleys, please consult pages 1809 - 1811 in the MISUMI 2008 metric catalog or visit the timing pulleys section at the MISUMI web site. For further details and application assistance, feel free to call MISUMI technical support at 800-681-7475 or 847-843-9105.

To view these and other MISUMI products online, please visit www.misumiusa.com.

MISUMI offers a new line of timing pulleys with configurable hubs to suit most any application. Selection software for choosing compatible timing belts is also offered at the company's website, www.misumiusa.com.

About MISUMI USA, Inc.
Located in Schaumburg, Illinois, MISUMI USA, Inc. was established in 1988 as a subsidiary of Japan-based MISUMI Corporation. MISUMI USA, Inc. is a leading supplier of configurable and fixed components for factory automation. In addition, MISUMI USA, Inc. offers a range of press and plastic die and mold components, cutting tools and gauges.

Company Contact:
Dwayne J. Roark
Senior Marketing Manager
847-843-9105 ext. 251
droark@misumiusa.com

More from Software