Global Positioning Systems (GPS)
Time and Frequency System features internal GPS receiver.
Press Release Summary: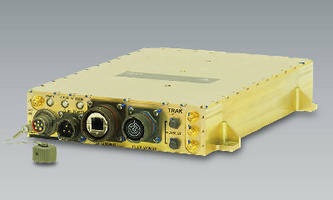 Housed in ruggedized enclosure, tactical 8836 Series integrates ground-based GPS receiver module, rubidium oscillator, time and frequency signal generation, and control/status circuitry. Standard outputs include 1 PPS, low noise 10 MHz Network Time Protocol, and two IRIG B outputs over multi-mode fiber. When tracking GPS with TFOM of 3 or better, discipline algorithm steers internal oscillator providing 1 PPS time accuracy of < 30 nS to UTC and long term frequency stability of < 1 E-12.
---
Original Press Release:
Ruggedized, Tactical GPS Time and Frequency System
Smiths Microwave Subsystems is pleased to announce that TRAK has released the 8836 series tactical GPS Time and Frequency System. The design approach integrates a ground-based GPS receiver module (GB-GRAM), a rubidium oscillator, time and frequency signal generation, and control/status circuitry in a compact, ruggedized enclosure.

Standard outputs include 1PPS, low noise 10 MHz Network Time Protocol (NTP) and two IRIG B outputs over multi-mode fiber. The 8836 can be synchronized from the internal GPS receiver or from an external GPS 1PPS. When tracking GPS with a TFOM of 3 or better, the discipline algorithm steers the internal oscillator providing 1 PPS time accuracy of < 30 nS to UTC and long term frequency stability of < 1E-12 averaged over 24 hours. In the absence of GPS the unit transitions into hold-over mode providing an accumulated time drift of < ± 2 µS in 24 hours. An Ethernet interface provides NTP, SNMP v1, v2 and v3, SSH, syslog and telnet. Three GPS Standard Serial Interface Protocol (GSSIP) ports are provided from the GB-GRAM. Two ports are configured to automatically output ICD-GPS-153 messages and the third port is configured to output NMEA-0183 messages. For more information, visit www.TRAK.com

About TRAK
TRAK Microwave Corporation designs and manufactures RF and microwave passive components and subassemblies for the defense, space and established reliability industrial communities. The products include a range of standard products and application specific solutions in coaxial, microstrip or waveguide technology which provide our customers and prospective customers with a broad choice of technologically differentiated solutions with an unrivalled existing portfolio of ferrite isolators, circulators, transitions, terminations, loads and couplers optimized to meet exacting requirements and environments.

About Smiths Microwave
Smiths Microwave, www.smithsmicrowave.com is a leading provider of components, sub-assemblies, antennas and system solutions, primarily for defense, aerospace, and telecom applications, that test, filter, protect, and process high-frequency signals for wireless communication networks. As a family of brands, Kaelus, RadioWaves, TECOM, TRAK, Transtector, PolyPhaser, LORCH, TRAK Limited, Millitech, EMC Technology, and Florida RF Labs provide exacting solutions for antenna systems for the military and commercial aerospace, transceivers, frequency sources, timing systems, component applications and a wide range of innovative RF, Microwave and surge protection solutions for the wireless telecommunications sector.

Alongside Smiths Connectors and Smiths Power, Smiths Microwave is part of the Smiths Interconnect division of Smiths Group, www.smiths.com, a global leader in applying advanced technologies for markets in threat and contraband detection, energy, medical devices, communications and engineered components. Smiths Group employs more than 23,500 people in over 50 countries.

Contact:
Mark Cressman, mcressman@smithsmw.com
TRAK Microwave
4726 Eisenhower Boulevard
Tampa, FL 33634
Toll Free: 888-901-7200
 
Related