Position Sensors / Detectors / Transducers
Tilt Sensor Signal Conditioner Boards measure 32 mm in size.
Press Release Summary: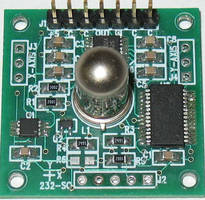 Capable of driving one or two electrolytic tilt sensors, 0729-1751, 1752, 1753 Series of tilt sensor signal conditioner boards can be integrated into variety of OEM equipment/systems in production applications. They feature built-in temperature sensor, and can be configured for single axis, dual axis (x and y in same sensor), or 2 single axis modes (x and y with 2 separate sensors). Devices are also available with 3 SPI, RS-232 and Analog/PWM outputs.
---
Original Press Release:

New Cost-Effective Mini (32 mm) Tilt Sensing Solution with Three Different Outputs Provides Single and Dual Axis Angle Measurement



DATE: APRIL 2, 2009

The Fredericks Company, a leading ISO 9001:2008 registered manufacturer of precision sensors and custom glass components, has announced availability of their new line of Mini Tilt Sensor Signal Conditioner (0729-1751, 1752, 1753 Series) Boards.

These small sized production ready printed circuit boards are capable of driving one or two electrolytic tilt sensors and can be integrated into a wide range of OEM equipment/systems in production applications. The boards can be operated with up to two external sensors, and can also be ordered with a built-in wide range, dual axis tilt sensor. They also provide a cost effective way to evaluate tilt sensors.

Each mini signal conditioner has a built-in temperature sensor, and they can be configured for single axis, dual axis (x and y in the same sensor), or two single axis modes (x and y with two separate sensors). Three different outputs (SPI, RS-232 and Analog/PWM are also available).

For more information, call 215-947-2500, Fax: 215-947-7464, e-mail: sales@frederickscom.com , visit www.frederickscom.com , or write The Frederick's Company, 2400 Philmont Avenue, Huntingdon Valley, PA 19006-0067.

Contact:

John Weigner

The Fredericks Company

215-938-4480

More from Machinery & Machining Tools